Cichla monoculus
Species name: Cichla monoculus

Synonym: Cichla bilineatus, Cychla monoculus, Cychla nigromaculata, Cycla toucounarai

Common Names:

Family: Cichlidae (Cichlids)

Order: Perciformes (perch-likes)

Class: Actinopterygii (ray-finned fishes)

Max. size: 70 cm / 28 inches

Environment: freshwater

Origin: South America. Amazon River basin in Peru, Colombia and Brazil

Temperament: Relatively non aggressive considering cichlids of that size.

Company: Only keep with fish that are to large to be considered food.

Water parameters: pH 6.0-7.5, temperature 24-30°C / 75-86° F

Aquarium setup: Cichla monoculus are an ambush predator and the aquarium should be set up accordingly. Create a lot of hiding places among rots and rocks.
Use hardy plants to great even more hunting grounds. Keep open areas for the fish to swim on.

Feeding: Accepts all kind of live food. Can be trained to accept frozen food and pellets.

Breeding: Can be breed in large aquariums.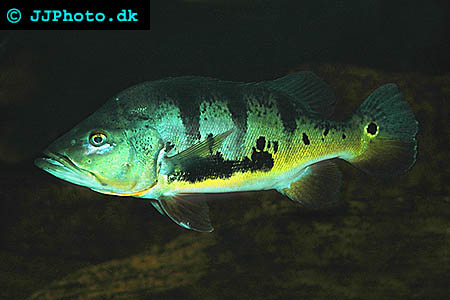 Picture of Cichla monoculus. Copyright www.jjphoto.dk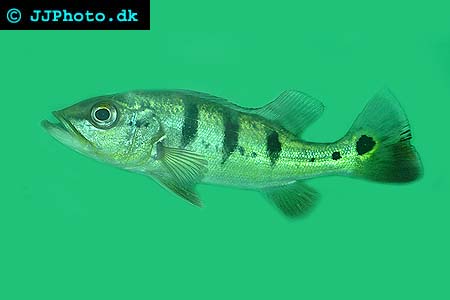 Juvenile Cichla monoculus. Copyright www.jjphoto.dk
Didn't find the info you were looking for? Register for free and ask your question in our Aquarium forum !
Our knowledgeable staff usually responds to any question within 24 hours


Other American Cichlid Profiles: