Sieve Cichlid - Cichlasoma grammodes
Species name: Cichlasoma grammodes

Synonym: Herichthys grammodes; Nandopsis grammodes

Common name: Mini-dovii; Sieve cichlid

Family: Cichlidae

Order: Perciformes

Class: Actinopterygii

Maximum size: 30 cm / 12 inches

Environment: freshwater

Origin: Mexico to Guatemala

Temperament: Aggressive

Company: Cichlasoma grammodes (Sieve cichlid) is very aggressive and should only be kept with other fishes in very large aquariums.

Water parameters: Temperature 22-27°; 72-81°F; pH 7.0 – 8.0

Aquarium setup: Cichlasoma grammodes (Sieve cichlid) should be kept in a large aquarium decorated with roots and rocks. Plants are not necessary although floating plants sometimes are appreciated, especially by the fry. This species requires high oxygen levels.

Feeding: Cichlasoma grammodes (Sieve cichlid) accepts most food sources but can preferable be feed live fish a couple of times a week as a supplement to their diet. Do not feed just live fish since much fish has low nutritional values.

Breeding: Cichlasoma grammodes (Sieve cichlid) spawn on a flat rock. The male guards a territory around the breeding ground while the female guards the eggs. This species can become very aggressive when they breed and any other fishes should be removed unless your aquarium is large enough to allow other fishes refuges outside the breeding pair's territory. Breeding pairs sometimes become aggressive towards each other and have to be divided.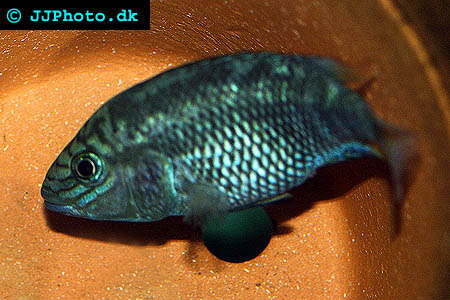 Picture of Sieve cichlid - Cichlasoma grammodes. Copyright www.jjphoto.dk


Didn't find the info you were looking for? Register for free and ask your question in our Aquarium forum !
Our knowledgeable staff usually responds to any question within 24 hours
Other American Cichlid Profiles: