Upside-down catfish - Synodontis Nigriventris
Species Name: Synodontis Nigriventris
Synonyms:
Common Name: Upside-down catfish
Family: Mochokidae
Order: Siluriformes
Class: Actinopterygii
Maximum Size: 4 inches (~20 cm)
Environment: Freshwater
Origin: Zaire
Temperament: Peaceful.
Company: Other peaceful community fish, larger less aggressive African Cichlids.

Water Parameters:  pH of 6.0-8.0,  Soft to moderate hardness (~dH 5-15), Temperature of  73-80 (~22-26 C)
Aquarium Setup: Moderately planted with real or fake plants. Hiding spots such as caves or driftwood for Synodontis Nigriventris to seek refuge from the light in.
Feeding: Will readily accept most foods.
Breeding: Breeding of Synodontis Nigriventris is not common in the home aquarium, and usually occurs by accident. Eggs are reported to have been laid inside PVC pipe, in flower pots, and in depressions made in the gravel.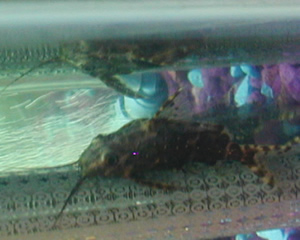 Picture of Upside-down catfish - Synodontis Nigriventris.
Didn't find the info you were looking for? Register for free and ask your question in our Aquarium forum !
Our knowledgeable staff usually responds to any question within 24 hours
Other Catfish Profiles: