Albino Corydora - Corydora Aeneus
Species Name: Corydora Aeneus
Synonyms: Corydora Paleatus
Common Names: Albino Corydora
Family: Callichthyidae
Order: Siluriformes
Class: Actinopterygii
Max Size: 3 inches (more common to see 2 inches in aquariums)
Environment: Freshwater
Origin: South American Amazon Region.
Temperament: Very peaceful in nature. 
Company: Preferably in schools of 3, but do best in schools of at least 6. They can be kept with any peaceful community fish.
Water Parameters: Low to high pH (~6.0-8.0), Low to moderate dH (5-19), Temperature of  74-82 (~24-28 C)
Aquarium Setup: Smooth substrate, with non jagged edges.
Feeding: C. Aeneus will feed upon any small bits of flake that fall to the bottom of the aquarium, some algaes, and their diet can be supplemented with sinking shrimp pellets.
Breeding: Eggs are lain, but are usually eaten soon after. If fry is desireable, the eggs should be removed and transferred to a separate tank/egg tumbler.
Note: Albino Corydoras are the albino morph of the bronze Corydora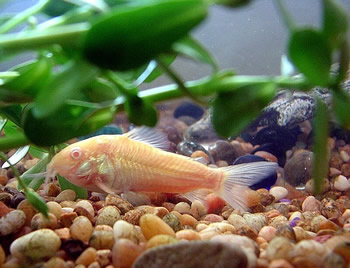 Picture of Albino Cory - Corydora Aeneus.

Didn't find the info you were looking for? Register for free and ask your question in our Aquarium forum !
Our knowledgeable staff usually responds to any question within 24 hours
Other Catfish Profiles: