Swordtail - Xiphophorus helleri
Species name: Xiphophorus helleri

Synonym:

Common Names: Swordtail

Family: Poeciliidae (Poeciliids) , subfamily: Poeciliinae

Order: Cyprinodontiformes (rivulines, killifishes and live bearers)

Class: Actinopterygii (ray-finned fishes)

Max. size: 12 cm / 5 inch

Environment: fresh, brackish water

Origin: North and Central America, Rio Nantla, Veracruz in Mexico to northwestern Honduras. Africa

Temperament: non aggressive.

Company: Can be kept in most community aquariums. Don't keep with large aggressive fish.

Water parameters: pH 7.0-8.0, temperature 25-27°C / 77 - 80° F

Aquarium setup: Live plants and a lot o free space to swim in. Avoid driftwood since driftwood lowers pH levels.

Feeding: accepts all kind of food that's small enough.

Breeding livebearer. Easily sexed since only males got swords. Females give birth once every 4-6 weeks. Each broad contains up to 200 fry. The fry is large and accepts small flake food. Fry grows fast.

Females who have given birth to a few broads can develop swords and become secondary males.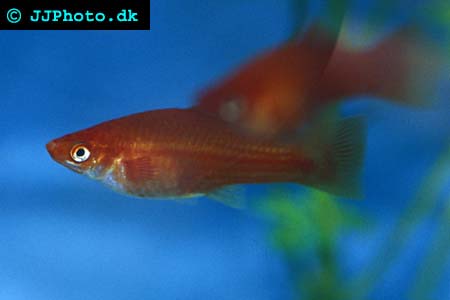 Picture of female Swordtail - Xiphophorus hellerii. Copyright www.jjphoto.dk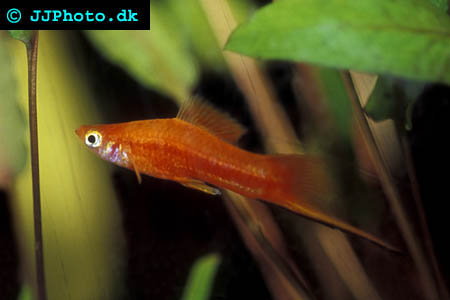 Male Xiphophorus hellerii - Swordtail picture. Copyright www.jjphoto.dk
Didn't find the info you were looking for? Register for free and ask your question in our Aquarium forum !
Our knowledgeable staff usually responds to any question within 24 hours
Other Livebearer Profiles: