Species name: Gambusia affinis

Synonym:

Common Names: Western Mosquitofish

Family: Poeciliidae (Poeciliids)

Order: Cyprinodontiformes (rivulines, killifishes and live bearers)

Class: Actinopterygii (ray-finned fishes)

Max. size: 7 cm / 2.5 inches

Environment: freshwater; brackish waters

Origin: North and Central America. Mississippi River basin from central Indiana and Illinois in USA south to Gulf of Mexico and Gulf Slope drainages west to Mexico.

Temperament: non aggressive.

Company: Can be kept with other small non aggressive species.

Water parameters: pH 6.0-8.0, temperature 18-24°C / 65 - 75° F

Aquarium setup: Best kept in planted tanks with enough free space too swim on. Provide hiding places for pregnant females to give birth and for the fry to hide.

Feeding: Accepts all kinds of food. Provide carnivorous food sources to the diet such as Mosquito larvae.

Breeding: Livebearer. Females give birth to fry after about four weeks gestation. Up to 60 fry in every bach. For more productive breeding isolate pregnant females and return them once fry is born since parents will eat their fry.



Picture of Western Mosquitofish - Gambusia affinis. Copyright www.jjphoto.dk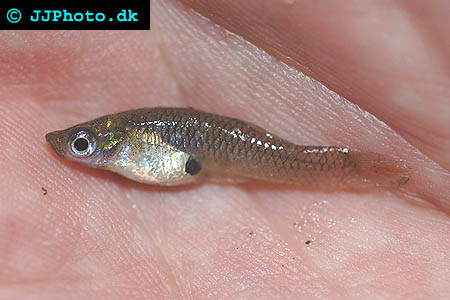 Western Mosquitofish - Gambusia affinis. Copyright www.jjphoto.dk