Halfbeak - Dermogenys pusillus
Species name: Dermogenys pusillus

Synonym:

Common Names: Halfbeak

Family: Hemiramphidae (Halfbeaks)

Order: Beloniformes (needle fishes)

Class: Actinopterygii (ray-finned fishes)

Max. size: 7 cm / 2.5- 3 inch

Environment: fresh, brackish, marine water

Origin: Asia, Thailand to Indonesia. Also includes India, Myanmar, and Bangladesh

Temperament: Aggressive towards specimens of the same species.

Company: Can be kept in community aquariums with other calm fish species. Don't keep with aggressive fish.

Water parameters: pH 7.0-8.0, temperature 24-28°C / 75 - 82° F

Aquarium setup: Large surface area required. Floating plants and plants that reaches the surface allows weaker fish to hide, and gives females somewhere to spawn their fry. Leave some space open.

Feeding: accepts all kind of food that's small enough. However live food is preferable.

Breeding livebearer. Good food is required for breeding. Broads are generally small and gestation lasts up to eight weeks. The fry is large and accepts small flake food. Fry is born without beak and the beak develops as the fry grows. Its quite usual that the fish stops breeding after a few successful broads. This can most often be solved by making the feedings better and more varied.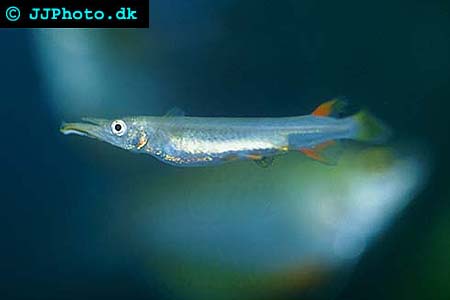 Picture of Halfbeak - Dermogenys pusilla. Copyright www.jjphoto.dk


Didn't find the info you were looking for? Register for free and ask your question in our Aquarium forum !
Our knowledgeable staff usually responds to any question within 24 hours
Other Livebearer Profiles: