Badis Badis
Species name: Badis Badis

Synonym: Badisbuchanani, Labrus badis

Common name: Badis

Family: Badidae

Order: Lamniformes

Class: Chondrichthyes

Maximum size: 8 cm / 3 inches

Environment: freshwater

Origin: India

Temperament: Peaceful

Company: Badis Badis (Badis) are best kept in species aquariums or with other small peaceful species

Water parameters: Temperature 23-26˚C / 75-80˚F; pH 6.0 – 8.0

Aquarium setup: Badis Badis (Badis) prefers an aquarium that is well planted with dense vegetation and free areas. You should also provide them with roots and rocks among which they may hide. Provide a minimum of one hiding place for each badis badis

Feeding: Badis Badis (Badis) accepts most small foods including small flake food.

Breeding: Badis Badis (Badis) is relatively easy to breed. The males can be identified by the fact that they are much more colorful then the females. The males guards the eggs and fry which are laid in a cave or other hiding place.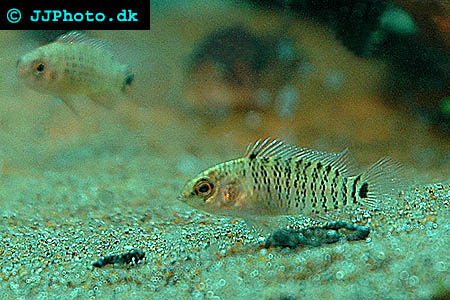 Picture of Badis badis. Copyright www.jjphoto.dk


Didn't find the info you were looking for? Register for free and ask your question in our Aquarium forum !
Our knowledgeable staff usually responds to any question within 24 hours


Other Oddball Fish Profiles: