Purple Spotted Gudgeon - Morgurnda adspersa
Species name: Morgurnda adspersa

Synonym: Eleotris adspersa; Mogurnda adspersa

Common Names: Purple spotted gudgeon

Family: Polycentridae (Leaffishes)

Order: Perciformes (perch-likes)

Class: Actinopterygii (ray-finned fishes)

Max. size: 14.0 cm / 6 inches

Environment: Fresh and brackish waters

Origin: Eastern Australia

Temperament:Predatory

Company:Do not keep with fishes smaller then at least 7,5 cm / 3 inches

Water parameters: Temperature 24-26°C / 75-79°F; pH 6.0 - 7.0

Aquarium setup: Morgurnda adspersa(Purple spotted gudgeon) are best kept in a species tank with neutral to mildly alkeline water, the fish does not do well in soft acidic water. A tank of 36 inches is suitable for a small group provided sufficient hiding places made from up turned flower pots pieces of slate and roots are supplied.

Feeding: Live and frozen foods of all kinds, the fish is usually reluctant to take pellet and flake foods.

Breeding: Breeding is easy within a species tank. the male will court the female by circling her with his fins spread wide. The eggs are laid on a flat surface and are guarded by the male until they hatch, after hatching the brood care ends and the fry will need to be removed to a seperate tank. Fry are easy to raise on fresh hatched brine shrimp and small live foods but due to canabalism very few make it to adulthood.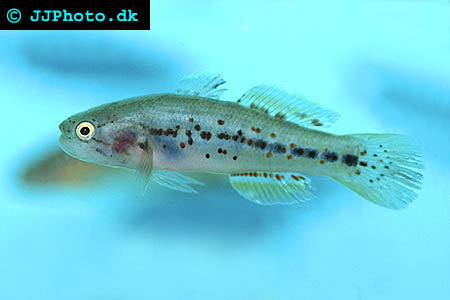 Picture of Purple spotted gudgeon - Morgurnda adspersa. Copyright www.jjphoto.dk


Didn't find the info you were looking for? Register for free and ask your question in our Aquarium forum !
Our knowledgeable staff usually responds to any question within 24 hours


Other Oddball Fish Profiles: