Freshwater Butterflyfish - Pantodon buchholzi
Species name: Pantodon buchholzi

Synonym: None

Common Names: Freshwater butterflyfish

Family: Pantodontidae

Order: Osteoglossiformes

Class: Actinopterygii

Max. size: 10 cm / 4 inches

Environment: Freshwater

Origin: West and Central Africa. Nigeria, Lake Chad, Cameroon, Ogowe basin, Congo basin and upper Zambezi River

Temperament: Peaceful but predatory. Will eat small fish.

Company: Peaceful fish that are too large to be considered food.

Water parameters: pH 6.5-7.0, temperature 23- 30°C / 73 - 86° F

Aquarium setup: Pantodon buchholzi (Freshwater butterflyfish) can are best kept in large aquariums. Decorate your aquarium with a loot of floating plants. Bottom decoration is less important and can be designed as you please.

Feeding: Accepts most foods including flakes. Prefers live food.

Breeding: The hardest part of breeding Pantodon buchholzi (Freshwater butterflyfish) is raising the fry as they only accept live food found at the surface. Setup a breeding aquarium with a pair of Pantodon buchholzi (Freshwater butterflyfish) and lots of floating plants. Lower the ph level (6.5) and raise the temperature (around 28°C/ 82° F). Give the pair lots of live food. The spawning spans over several days and once it's completed it's recommended to remove the pair.


Used with the permission of J.Gallo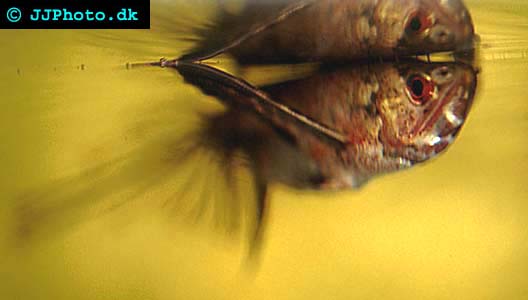 Picture of Freshwater butterflyfish - Pantodon buchholzi. Copyright www.jjphoto.dk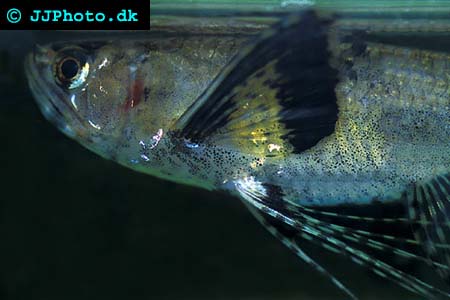 Pantodon buchholzi - Freshwater butterflyfish picture. Copyright www.jjphoto.dk
Didn't find the info you were looking for? Register for free and ask your question in our Aquarium forum !
Our knowledgeable staff usually responds to any question within 24 hours