Black Arowana - Osteoglossum ferreirai
Species name: Osteoglossum ferreirai

Synonym: Osteoglossum ferrerai

Common Names: Black Arowana

Family: Osteoglossidae

Order: Osteoglossiformes

Class: Actinopterygii

Max. size: 100 cm / 40 inches

Environment: Freshwater

Origin: South America. Rio Negro

Temperament: Peaceful

Company: Other large peaceful species.

Water parameters: pH 7-7,5 Temperature 24 - 30°C / 75 - 86° F

Aquarium setup: Osteoglossum ferreirai (Black Arowana) should only be kept in very large aquariums due to their size. The aquarium should be decorated with a lot of free surface area to swim on. Decorate the bottom after your taste or the preference of the species you keep with your arowana. Make large water changes of 30-40% once a week.

Feeding: Floating frozen and live food. After training also pellets.

Breeding: Not breed in aquarium.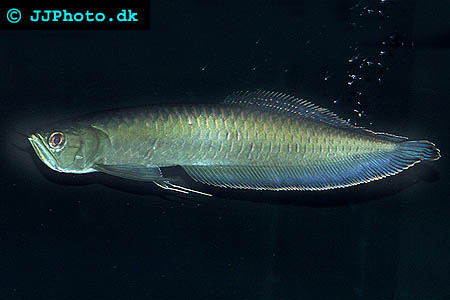 Picture of Black Arowana - Osteoglossum ferreirai. Copyright www.jjphoto.dk

Didn't find the info you were looking for? Register for free and ask your question in our Aquarium forum !
Our knowledgeable staff usually responds to any question within 24 hours


Other Predatory Fish Profiles: