Banded Bichir - Polypterus delhezi
Species name: Polypterus delhezi

Synonym: Polypterus ansorgei delhezi

Common Names: Armoured bichir, banded bichir

Family: Polypteridae

Order: Polypteriformes

Class: Actinopterygii

Max. size: 44 cm / 17 inches

Environment: Freshwater

Origin: Central basin of Congo River, Africa

Temperament: Relatively non aggressive but predatory

Company: Fishes that are to large to be eaten.

Water parameters: pH 6-8 Temperature 25 - 28°C / 77 - 82° F

Aquarium setup: Polypterus delhezi (Armoured bichir, banded bichir) should be kept in large aquariums as they are a fast growing, large fishes. The aquarium should be decorated with a lot of hiding places and a fine grained substrate. Plants are not recommended since they most likely would be destroyed. This species is nocturnal.

Feeding: All kinds if frozen foods. Some specimens can be trained to accept pellets.

Breeding: Not breed in aquarium. Sexing is possible since males have a large pocket like anal fin and are smaller then females.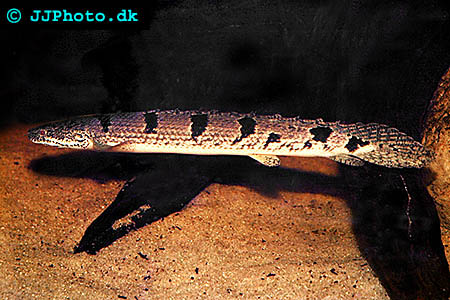 Picture of Armoured bichir, banded bichir - Polypterus delhezi. Copyright www.jjphoto.dk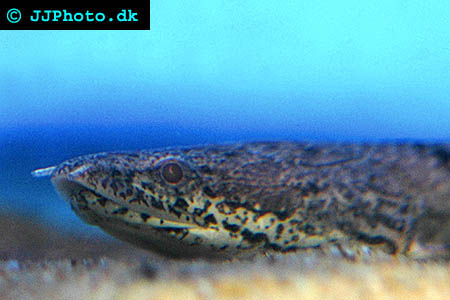 Polypterus delhezi - Armoured bichir, banded bichir picture. Copyright www.jjphoto.dk
Didn't find the info you were looking for? Register for free and ask your question in our Aquarium forum !
Our knowledgeable staff usually responds to any question within 24 hours