Zebra Loach - Botia striata
Species name: Botia striata

Synonym: Botia striatus; Botia striata; Botia dayi; Botia striata kolhapurensis

Common Names: Zebra loach

Family: Cobitidae (Loaches),

Order: Cypriniformes (carps)

Class: Actinopterygii (ray-finned fishes)

Max. size: 7.8 cm / 3 inches

Environment: Freshwaters

Origin: Southern India, Tunga river system.

Temperament: Zebra loaches are best kept in a group, they can be semi-aggressive sometimes.

Company: This Botia is most friendly with Clown loaches, Dario loaches, and sometimes Botia Lohachata.

Aquarium setup: Botia striata(Zebra Loache) has no special requirements. A tank size of 36 inches with a fine substrate like sand is preferred as they are continually searching for food using their barbells. Like most Botias they will make considerable indents on any snail population and can therefore come in very handy. Provide plenty of hiding places as you would with most Loaches. Generally suited to most community tanks but be warned there are reports of some semi-aggressive behaviour towards other bottom dwellers but it is unlikely.

Feeding: Will readily except most foods, be sure to provide a varied diet of frozen and commercially prepared foods.

Breeding: Little or nothing is known about the breeding of this fish. No reports of captive breeding.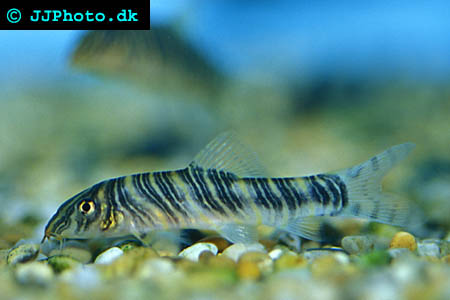 Picture of Zebra loach - Botia striata. Copyright www.jjphoto.dk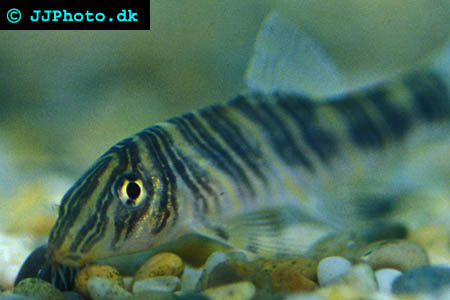 Botia striata - Zebra loach picture. Copyright www.jjphoto.dk
Didn't find the info you were looking for? Register for free and ask your question in our Aquarium forum !
Our knowledgeable staff usually responds to any question within 24 hours
Other Loach Profiles: