Red Empress Cichlid - Protomelas Taeniolatus
Species name: Protomelas Taeniolatus

Synonym: Cyrtocara taeniolata, Cyrtocara taeniolatus, Haplochromis taeniolatus, Protomelas fenestratus, Haplochromis Hinderi, Steveni Eastern

Common Names: Red Empress, Spindle Hap, Fire Blue

Family: Cichlidae (Cichlids) , subfamily: Pseudocrenilabrinae

Order: Perciformes (perch-likes)

Class: Actinopterygii (ray-finned fishes)

Max. size: 25 cm / 10 inches

Environment: freshwater

Origin: Lake Malawi.

Temperament: Relatively aggressive.

Company: Can be kept with other equal aggressive species of the same size. Best kept with other Malawi cichlids.

Water parameters: pH 7.0-8.5, temperature 24-26°C / 75-78° F

Aquarium setup: This fish grows relatively large and needs a big tank. 90 gallon / 350 L should be considered a minimum. Don't house several males if unless you got a very large aquarium. Requires stone formations that allows the fish good hiding places. Plan the Aquarium setup so that several territories can be formed with natural boundaries. Also make sure there is a lot of free space for these fish to swim on. Don't use roots in your aquarium since they lower PH levels..

Feeding: Accepts all kinds of food.

Breeding: Mouth-brooder. One male to 3 females are kept together. The male keeps a small breeding territory. The female will brood for up to 4 weeks. You can tell if a female is brooding by her enlarged mouth and the fact that she isn't eating. Fry are quite small and fragile but will accepts most kinds of food. They grow very fast and a large aquarium is recommended to raise the fry. Brooding females are isolated for more productive breeding. It is recommendable to try to make the isolation as short as possible to avoid that the females loses their social status which may cause fights once they are returned. Both parents care for the fry.

Picture of adult Red Empress - Protomelas taeniolatus. Copyright www.jjphoto.dk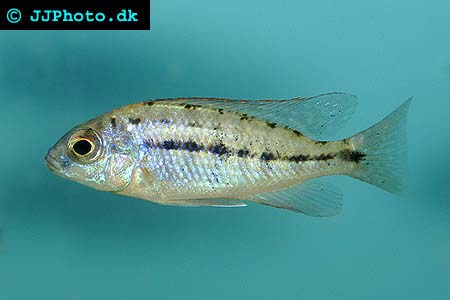 Juvenile Protomelas taeniolatus - Red Empress. Copyright www.jjphoto.dk
Didn't find the info you were looking for? Register for free and ask your question in our Aquarium forum !
Our knowledgeable staff usually responds to any question within 24 hours
Other African Cichlid Profiles: