Frontosa Cichlid - Cyphotilapia frontosa
Species name: Cyphotilapia frontosa

Synonym: Cyphotilapia frontosus ; Paratilapia frontosa ; Pelmatochromis frontosus

Common name: Frontosa; Humphead Cichlid

Family: Cichlidae

Order: Perciformes

Class: Actinopterygii

Maximum size: 40 cm / 16 inches

Environment: Freshwater

Origin: Endemic to Lake Tanganyika (East Central Africa)

Temperament: Peaceful

Company: Cyphotilapia frontosa (Frontosa) is best kept alone or with other large Lake Tanganyika cichlids.

Water parameters: Temperature 24-26°C / 75-79°F; pH 7.8 – 9.5

Aquarium setup: Cyphotilapia frontosa (Frontosa) should be kept in a large Lake Tanganyika aquarium. Decorate the aquarium with a lot of rocks placed in such a way that a lot of caves a created. The aquarium should be well filtrated.

Feeding: Cyphotilapia frontosa (Frontosa) will accept pellets. They should be given a varied diet.

Breeding: Cyphotilapia frontosa (Frontosa) are mouthbrooders. The female take the eggs in her mouth after the spawning and keep them there for about a month. The fry is quite large when they are released and will accept baby brine shrimp. Each spawning generates a relatively small amount of fry. You can reac more about breeding Cyphotilapia frontosa (Frontosa) in our articles section.



Picture of Frontosa or Humphead Cichlid - Cyphotilapia frontosa. Copyright www.jjphoto.dk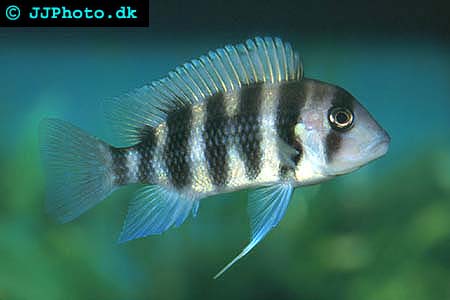 Juvenile Cyphotilapia frontosa - Frontosa or Humphead Cichlid. Copyright www.jjphoto.dk
Didn't find the info you were looking for? Register for free and ask your question in our Aquarium forum !
Our knowledgeable staff usually responds to any question within 24 hours
Other African Cichlid Profiles: