Fahaka Puffer - Tetraodon lineatus
Nile Puffer
Species name: Tetraodon lineatus

Synonym: Crayracion fahaca, Tetraodon lineatum, Tetraodon fahaka, Tetraodon physa, Tetrodon strigosus,

Common Names: Globe fish, Nile Puffer

Family: Tetraodontidae

Order: Tetraodontiformes

Class: Actinopterygii

Max. size: 43 cm / 17 inches

Environment: freshwater

Origin: Africa. Nile, Chad basin, Niger, Volta, Gambia, Geba and Senegal Rivers.

Temperament: extremly aggressive.

Company: Best kept alone.

Water parameters: pH 7.0, temperature 24 - 27°C / 75 - 81° F

Aquarium setup: Fahaka or Nile Puffers grows very large and are therefore only suitable for large aquariums. Their agressive nature usually makes it impossible to keep more than one specimen in the same aquarium unless that aquarium is very large. They are sensetive to ammonia and nitrites. They are messy eaters which makes good filtration and regular water changes a necessity. Never kept this fish in soft water. dH 8+ is recommended.

Feeding: Very predatory. Best kept on a diet consisting of Krill shrimp, crayfish, crab and the occasional feeder fish. Feeder fish should not be their main food source.

Breeding: Not possible in aquariums.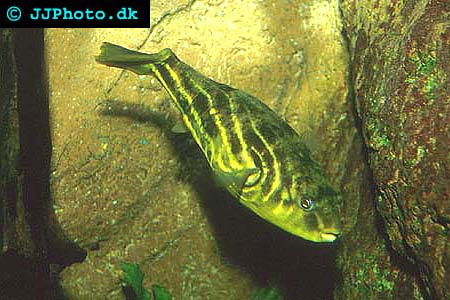 Picture of Nile Puffer - Tetraodon lineatus. Copyright www.jjphoto.dk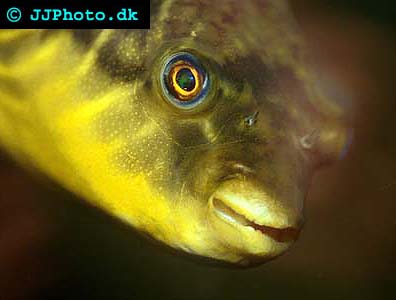 Tetraodon lineatus - Nile or fahaka puffer picture. Copyright www.jjphoto.dk



Picture courtesy of

Anne Komarisky


Didn't find the info you were looking for? Register for free and ask your question in our Aquarium forum !
Our knowledgeable staff usually responds to any question within 24 hours
Other Puffer Fish Profiles: