Spotted tang - Zebrasoma gemmatum
Species Name: Zebrasoma gemmatum

Synonyms: Zebrasoma gemmatum, Acanthurus gemmatus

Common Names: Spotted tang

Family: Acanthuridae (Surgeonfishes, tangs, unicornfishes)

Order: Perciformes (perch-likes)

Class: Actinopterygii (Ray-finned Fishes)

Max. Size: 22.0 cm/8.7 inches

Environment: Marine-reef

Origin: Western Indian Ocean

Temperament: Harmless

Company: Small fishes

Aquarium Setup: Zebrasoma gemmatum (Spotted tang) must be given a lot of space to do well. They need many hiding spots and acropolis coral skeletons are especially appreciated. Strong water movement is vital. pH should be 8.0-8.4. Temperatures should ideally be in the mid-seventies or low eighties F. High oxygen levels are important.

Food: Zebrasoma gemmatum (Spotted tang) primarly eat benthic algae. A good aquarium diet includes meaty and vegetable materials in small portions. Spotted tangs can store fat in body cavities, and periods of non-feeding are natural.

Breeding: We do not have any information about how to breed Zebrasoma gemmatum (Spotted tang) in aquariums.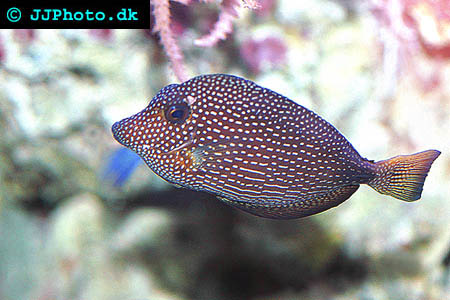 Spotted tang – Zebrasoma gemmatum. Copyright www.jjphoto.dk
Didn't find the info you were looking for? Register for free and ask your question in our Aquarium forum !
Our knowledgeable staff usually responds to any question within 24 hours