On this page, we are going to look at different computer and phone games that are aquarium related. Some of these games can be educational, but they are designed to be fun to play not realistic. Most, all, of these games, contain factual errors and practices that can be harmful to fish.
Computer Games
Mega aquarium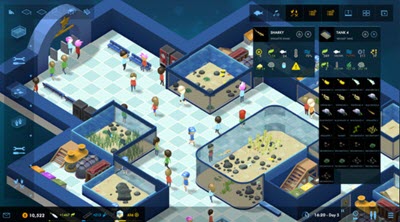 Mega aquarium is a computer game that tasks you with building a successful public aquarium. You start with a limited amount of money and a low number of aquariums and livestock. Your goal is to set up a successful public aquarium that attracts a lot of guests, make a lot of money and provide a good home to all the livestock. You need to balance the need of the fish with the need to make money.
The game allows you a lot of freedom to build the aquarium you want to build. The game features about 100 different species of fish, corals and other livestock that you can keep in your aquariums.
It is a fun game- Anyone who tried and liked other tycoon games will like this game. It is available on steam.
Fish Tycoon
This is an enjoyable game that I thoroughly enjoy playing. The game is an aquarium simulator that tasks you with making money by breeding fish and selling them in your store. You can use the money to buy better aquariums, aquarium equipment, more expensive fish and better fish food.
The game is easy to get into and fun to play. It is available for both PC and Mac.
It can be downloaded for free here.
Fishdom 1,2 and 3
All these games are match3 puzzle games with an aquatic theme. They are similar to candy crush and many other games where you are tasked with lining up symbols to make them disappear from the screen.
These games are fun but provide very little that separates them from other match-3 games. The symbols are seafood related, but they can not be said the be aquarium related.
Big Kahuna Reef 3
This is another match3 game. It is fun but not very aquarium related.
Jenny's Fish Shop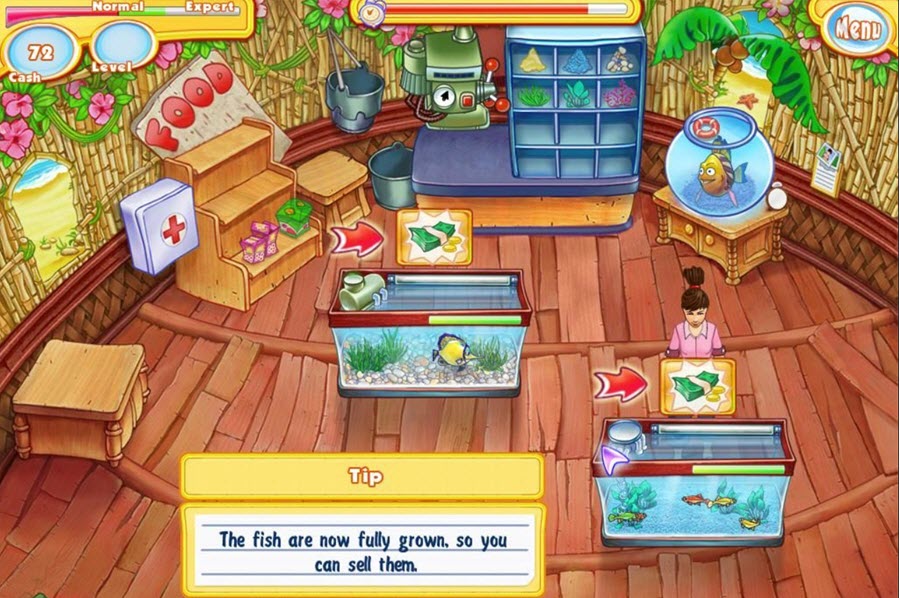 Jenny's Fish Shop is a fun game in which you help Jenny to stock her fish store. Your goal is to place the right item in the proper aquarium. It is similar to many restaurant games where you build food. Jenny's Fish Shop is a simple fun game that is suitable for children and casual gamers. You can download a free demo here.
Mobile games
Fish Tycoon 2: Virtual Aquarium
Fish Tycoon 2 is a game for Android and iOS. It is the sequel to fish tycoon for PC and Mac. The game is fun and easy to play. The game starts you off with a small amount of money and a basic setup for breeding fish. Your goal is to turn your humble start into a fish breeding and selling empire. The game contains more than 4oo different species of fish. All with their own preferences. Some species are easy to keep and breed. Other require special conditions to thrive. This game is good at demonstrating the complexity of fish keeping. The game should not be considered educational but can be a good introduction to the world of fish keeping since you will learn a number of basic rules for fish keeping while playing it.
Fish Tycoon 2 is a great casual game for any fish keeper. It offers a good blend of challenge and relaxation. You can read more about the game on steam or on Google Play.
Fish Live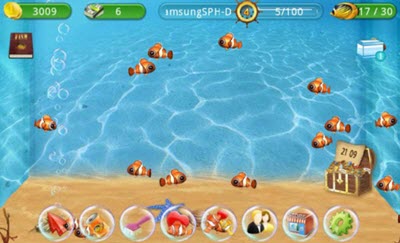 Fish live is a fun game that allows you to keep fish in aquariums. It is very unrealistic and allows you to keep a lot of different fish species together in the same aquarium including Orcas (killer whales). Fish live can be a fun way to kill some time, especially considering that it is free, but it contains too many adds for me to be able to recommend it.
Aquarium Fish by JK area
This is a straightforward game with simple graphics. It is also one of the most realistic games on the market. It contains real fish species and everything you do will affect your aquarium and the fish in it. Overfeed, and the water quality will drop, forget to put an aquarium heater in the tank and the water will become too cold and so on. This is a good game for anyone who wants a somewhat, realistic aquarium game. Download from Play store.
Casino Games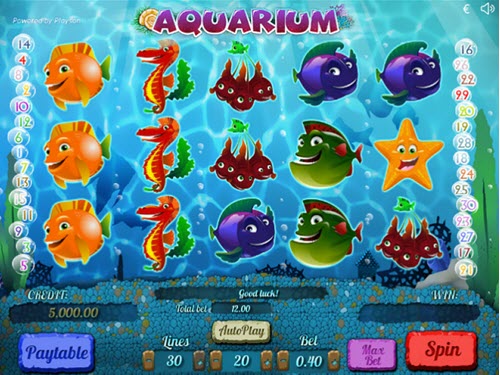 There are also a number of casino games developed with an aquarium theme. All these games are entirely based on luck and have nothing to do with reality. They will not teach you anything about fish keeping. Almost all of the games are slot machines.
I do not recommend that you try any of these games. Casino gambling is designed to make the casino money. All games are designed to earn money. You can get lucky and win money in the short run, but you will always lose money if you play a slot machine for long enough. Do not spend money on casino gambling when you can spend it on more fish or equipment.
If you despite this want to try these games then I recommend that you do so with virtual money. Almost all online casinos allow you to play their games for free using virtual money. This way you do not risk losing any real money. If you want to try these casino games betting real money, then I recommend that you make sure to sign up with a casino that gives you a good casino bonus when you sign up.  You can find the latest casino bonuses on this casino website. The website also features a lot of information about different games, game developers, banking options and feature a large number of casinoisno reviews.
Golden fish tank
The golden fish tank is a slot machine from Yggdrasil.  It is one of the best aquarium related slots i have tried. You can read more about it here.
GoldFish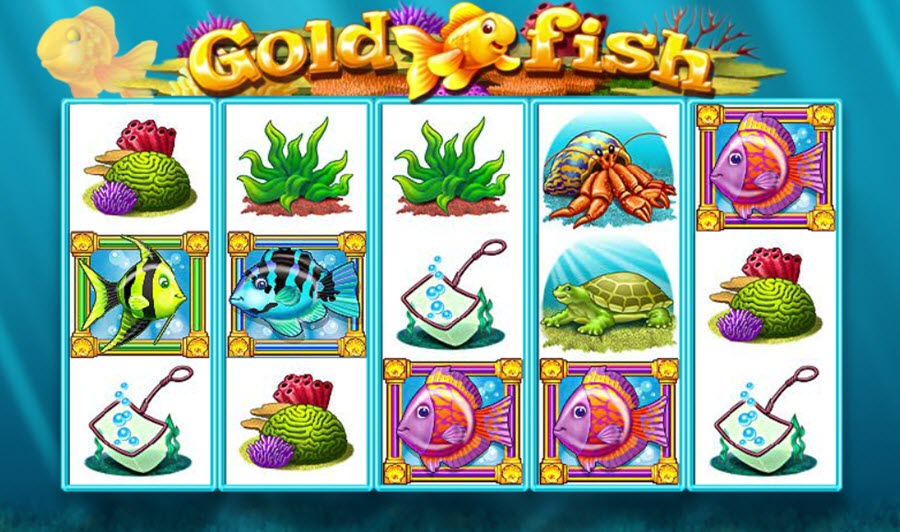 Goldfish is a slot machine that is popular in both regular casinos and online. This slot machine is themed around tropical and exotic fish. The most important of them all being the goldfish that gives you the chance to win big. The goldfish can reward you with free spins. All wins during the free spins will be multiplied by X, 3X, 5X, 7X, or 10X. You can receive a maximum of 20 free spins.
I do not recommend this slot machine. It uses uninspired lounge music, irritating sound effects and feels very dated. Goldfish would have been an excellent slot 15 years ago. Today it feels dated and can not offer the same experience as newer slots from NetEntertainment or Microgaming.
Aquarium
Aquarium is a fun slot, but it is uncommon in casinos outside of Asia. It is a simple slot machine themed around fish and marine livestock. The game has despite its name little in common with aquariums. It is evident that the developers have little knowledge about which animals you are likely to find in an aquarium. The symbols include things like sea turtles and a mix of fresh and saltwater fish. The wild symbol in the game is an aquarium. This is likely what have given the game its name.
This slot is fun to play, but it is not as good as many other modern slot machines such as Divine fortune or Star Burst.