Yellow King Piranha - Serrasalmus ternetzi
Species name: Serrasalmus ternetzi

Synonym:

Common name: Yellow King Piranha

Family: Serrasalmidae

Order: Characins

Class: Actinopterygii

Maximum size: 50 cm / 20 inches

Environment: Freshwater

Origin: South Western Brazil

Temperament: Aggressive

Company: Serrasalmus ternetzi (Yellow King Piranha) are best kept in an aquarium without other species.

Water parameters: Temperature 22-25˚C / 72-79˚F; pH 6.5 – 7.0

Aquarium setup: Serrasalmus ternetzi (Yellow King Piranha) should be kept in groups in larger aquariums with a smooth bottom substrate. The aquarium can be decorated according to your taste however a few roots or rocks are beneficial. Plants are not necessary.

Feeding: Accepts frozen food.

Breeding: Unknown.

Picture of Yellow King Piranha - Serrasalmus ternetzii. Copyright www.jjphoto.dk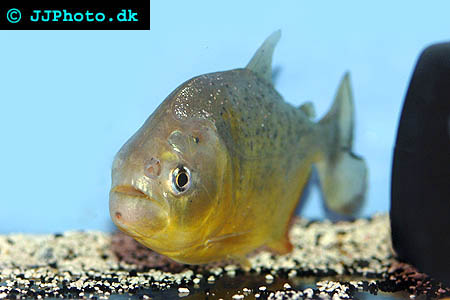 Serrasalmus ternetzi - Yellow King Piranha picture. Copyright www.jjphoto.dk
Didn't find the info you were looking for? Register for free and ask your question in our Aquarium forum !
Our knowledgeable staff usually responds to any question within 24 hours
Other Piranha Fish Profiles: