Smooth Back River Stingray - Potamotrygon orbignya
Potamotrygon humerosus
Species name: Potamotrygon orbignya

Synonym: Potamotrygon humerosus

Common Names: Smooth Back River Stingray

Family: Potamotrygonidae (River stingrays)

Order: Rajiformes (skates and rays)

Class: Elasmobranchii (sharks and rays)

Max. size: 35 cm WD / 13 inches WD

Environment: Freshwater

Origin: South America. Widespread in Amazon and Orinoco River basins and in river systems in Suriname, Guyana and French Guiana.

Temperament: . Timid. Do not keep with territorial fishes.They will eat small fish.

Company: Other rays and non aggressive fishes.

Water parameters: pH 6.8-7.5, temperature 24-26°C / 75 - 78° F

Aquarium setup: Potamotrygon orbignya aka humerosus requires a large aquarium of a tleast 100 gallons. The aquarium need to be decorated so that there are a lot of free bottom space for the rays to swim on. They are cartilaginous and need to be able to be in constant movement to get the oxygen they need. They are sensetive towards ammonia, nitrite, and nitrate and good filtration and regular water changes are a necessity. They are also sensetive to a variety of different chemicals and you should therefor always make sure that a medicine is ray safe before using it in an aquarium containing rays.

Feeding: They accept most live and froozen food. Do not keep them on goldfish feeders since these are poor in nutrition and will not sustain your amooth back river stingray in the long run.

Breeding: Sexing is easy when males got modified pelvic fins for genetic transference, females do not. They give birth to live young called pups. They are hard but not impossible to breed and there are today an increasing amount of aquarium / pond bred freshwater stingrays in the trade.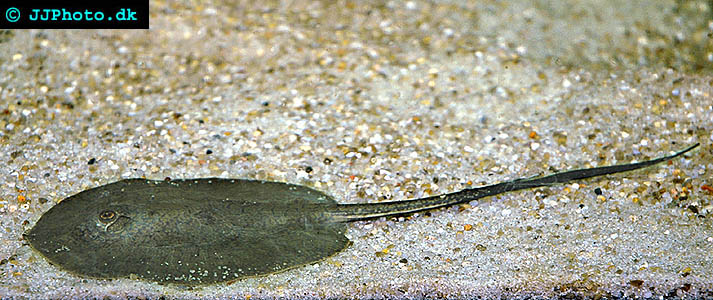 Picture of Smooth Back River Stingray - Potamotrygon orbignya. Copyright www.jjphoto.dk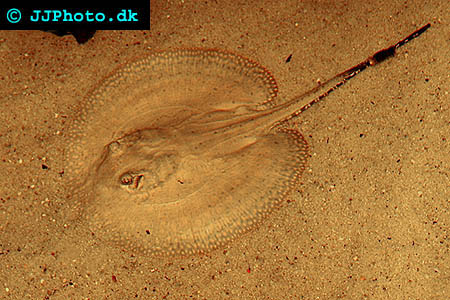 Potamotrygon orbignya - Smooth Back River Stingray. Copyright www.jjphoto.dk
Didn't find the info you were looking for? Register for free and ask your question in our Aquarium forum !
Our knowledgeable staff usually responds to any question within 24 hours


Other Freshwater Stingray Profiles: