Ghost Knife Fish - Notopterus notopterus
Species name: Notopterus notopterus

Synonym: Gymnotus notopterus, Notopterus kapirat, Mystus kapirat, Notopterus kopirot, Clupea synura, Mystus badgee, Notopterus bontianus, Notopterus pallasii, Notopterus primaevus, Notopterus osmani

Common Names: Asian Knife fish, Ghost Knife fish, Bronze Featherback

Family: Notopteridae (Featherbacks or knifefishes)

Order: Osteoglossiformes (bony tongues)

Class: Actinopterygii (ray-finned fishes)

Max. size: 60 cm / 24 inches

Environment: freshwater

Origin: Southeast Asia. Bangladesh, Cambodia, India, Indonesia, Laos, Malaysia, Burma, Nepal, Pakistan, Thailand, Viet Nam

Temperament: Very aggressive towards its own species. Timid towards other larger fishes.

Company: Can be kept in a community aquarium with other calm species that are to big to be swallowed.

Water parameters: pH 6.0-6.5, temperature 24-28°C / 72-82° F

Aquarium setup: Nocturnal. This species requires a very large well planted aquarium. It is best not to keep more then one of these fishes together in an aquarium unless it's big enough for several territories to be formed. The Aquarium should be decorated with a lot of narrow hiding places among rotes, rocks and plants. It is also strongly recommendable to use pipes to create additional hiding places. Floating plants should be used to dim the lighting.

Feeding: Accepts most kinds of live and frozen food. Some specimens accept pellets and try food.

Breeding: spawning takes place during night time and results in up to 200 eggs deposited on the bottom of the aquarium. The males guard the eggs until they hatch. Incubation time is about 2 weeks. Fry can be feed artemia.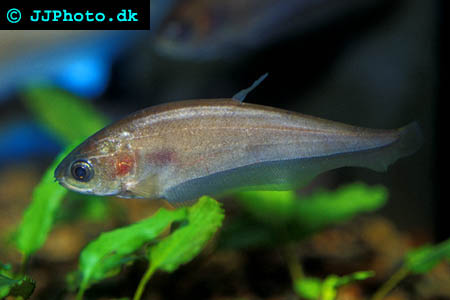 Picture of Asian / Ghost Knife fish - Notopterus notopterus. Copyright www.jjphoto.dk

Notopterus notopterus - Asian / Ghost Knife fish. Copyright www.jjphoto.dk
Didn't find the info you were looking for? Register for free and ask your question in our Aquarium forum !
Our knowledgeable staff usually responds to any question within 24 hours


Other Knife Fish Profiles: