The External Anatomy of a Shrimp
By: jbeining75
Shrimp are a vital yet very small part of the underwater world that makes up over 70% of the earth. They are a small number of invertebrates in nature, both marine and freshwater, but make up a huge portion of the invertebrate population of aquarium hobbyist. They are used as eye catchers, accents, and mostly as clean up crews. They are magnificent little creatures and today we will discuss their anatomy.
     The shrimp has nineteen (19) separate sections of the body. Two (2) main segments make up the body of a freshwater or marine shrimp. The first part is the upper portion of the shrimp, referred to as the cephalothorax. The cephalothorax includes the head and the thorax or pereon region of the shrimp. It is covered by a protective plating system called the carapace. Shown below is the cephalothorax noted with body parts.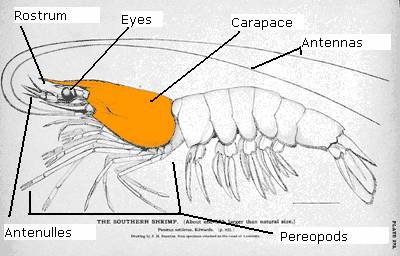 The cephalothorax consists of the rostrum (nose), stalked eyes, carapace, the 1st and 2nd antennas, antenulles, pereopods (walking legs – 5 sets), the maxillipeds, and the mandibles (jaws). The antenna and antenulles are used as feelers or sensory feelers. The maxillipeds are used to rip food apart before it is moved into the mandible where it is crushed and devoured.
     Below is a picture of the lower portion of the body, often called the abdomen or pleon segment. This include both abdominal section upper and lower. The upper abdominal section, 1-3, is referred to as the tergum. The bottom half, 4-6, is referred to as the pleuron. The pleopods, often called swimmerets, are tucked under the abdomen of the shrimp. It also includes the tail section of the shrimp that is broken into three parts. Two of which are called uropods, and the central pointier segment is the telson. The pleopods are used foe swimming while their tails are used like aircraft wings to control their direction.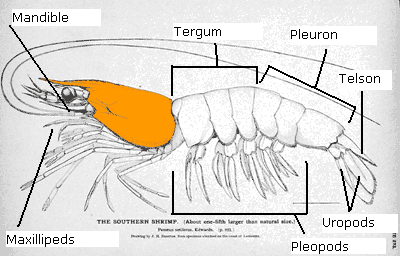 Hopefully this helps you to be able to better see the separation and parts of the shrimp that we keep. Below is a picture from Fishalicious (Thanks Jess). It shows a great split in the tail portions and what you should use to identify the difference between the telson and the uropods.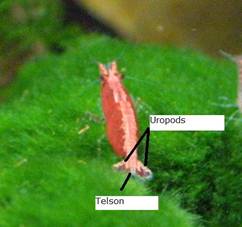 Here is another picture by Fishalicious showing the carapace and separation of the 6 abdominal sections.