There are a lot of different species of catfish that can grow to a huge size. These huge catfish can be found on most of the worlds continents but this article will focus on introducing you to some of the huge catfish species you can find in the US, in Europe and in Asia. And let us to that end begin in the US where you can find the smallest of these huge catfish species.
Huge Catfish in the US
There are several species of catfish in the US that can grow to large proportions and it is these species who have been the basis for the myth of the monster catfish that surrounds so many bodies of water around the US. I will in this text introduce you to 3 of these species, Flathead catfish, Blue Catfish and Channel catfish. All of these species can reach a length of over 1m/ 3 feet and weight of around 30 kg / 66 lb which I would say qualifies them to be called huge catfish. However these very large catfish are unusual and often very old which makes the basis for all the myths surrounding these monster catfish. It is entirely possible that it really is true that these catfish may have avoided being caught by fishermen during the last 50 years and that they have been quite large 40 of those years. Enough time to create a legend about a monster catfish.
The Channel Catfish can be found in just about any water but are most common in streams and rivers with clear water and sandy to rocky bottoms. They can grow to be 4 ft/ 130 cm long and weigh up to 58lb / 26 kg, however huge channel catfish are only seldom seen.
The Blue Catfish are primarily found in clear rapidly moving water on the Atlantic side of the US. Blue Catfish can according to confirmed information grow to be 5.5ft /1.7 meter long and can reach a weight of 100 lb / 45 kg. There are however reports from the 1800s of Blue catfish weighing up to 150lb/ 68kg. Whether these are false reports or just the result of the fact that huge catfish are becoming rarer are unknown.

The Flathead catfish are found in large parts of the US since it has been introduced to a large number of waters due to their value as a game fish. Flathead catfish can grow to be 155 cm / 5ft long and to a weight of 56 kg / 124 lb. This makes the Flathead catfish the largest catfish in the US and the one true huge monster catfish found in the US.
Huge Catfish in Europe.
The huge catfish that can be found in the US are however mere dwarfs to those that can be found in Europe and Asia. The largest species of catfish in Europe is Wels catfish. It is also the largest species of all freshwater fish in Europe and is a contender to the throne of being the largest freshwater fish on earth. This huge catfish can grow to be almost as big as great white shark measuring 5 meter / 16.5 ft in length and weighing over 300 kg/ 660 lb with unconfirmed reports of even larger fish. Wels catfish can be found through out Europe where it is endangered in many areas and protected by the Bern convention. Wels catfish are starting to cause trouble in some areas like the UK where they have been introduced and lack natural enemies. Wels catfish can also be found in parts of Asia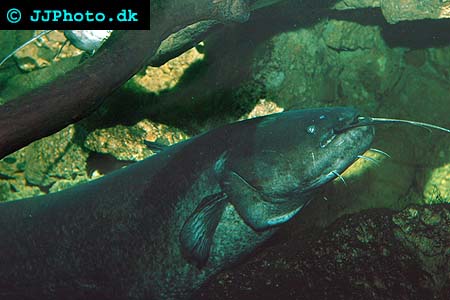 Wels catfish grows huge. Copyright www.jjphoto.dk
Huge Catfish in Asia
The earlier described species can be found in some parts of western Asia but further east in the Mekong delta (Cambodia, Laos) there is another huge catfish, and another contender to the world largest freshwater fish title although it undoubtedly doesn't grow as long as the wells catfish. The Giant Mekong catfish is becoming increasingly rare and can be found on the cites critically endangered species list. The Mekong catfish can grow to a length of 3m /10 ft and weigh up to 350kg/770 lb (making them heavier then wells catfish). The Mekong catfish are one of the fastest growing fish in the world and reaches a weight of 150-200 kg /330-440 lb in only six year making them huge monster catfish in a minimal amount of time.
This article might not cover all the huge catfish species that exist out there but it introduces you to some of the largest species in the US and the 2 true species of huge catfish namely Wels Catfish and the Giant Mekong Catfish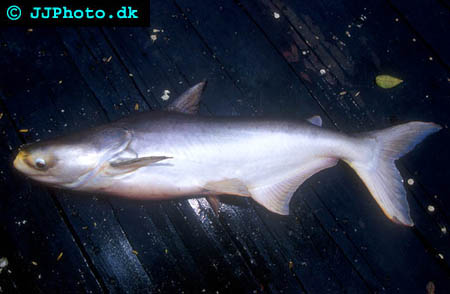 Giant Mekong catfish.- a huge asian catfish. Copyright www.jjphoto.dk
Didn't find the info you were looking for? Register for free and ask your question in our Aquarium forum !
Our knowledgeable staff usually responds to any question within 24 hours

Related Articles
Breeding Corydoras, Brochis and Aspidoras catfish
- Secrets to the successful breeding of Corydoras, Brochis or Aspidoras catfish
Albino Catfish
- Information about Albino Catfish
Biggest Catfish ever caught
- Information about which is the Biggest Catfish ever caught
Blue Catfish
- Information about Blue Catfish
Breeding Bristlenose catfish - Ancistrus species
- How to breed Ancistrus
Breeding Corydoras barbatus, Banded Corydoras / Bearded catfish
- An introduction to the species and how to breed it.
Breeding Corydoras davidsandsi
- A guide to successfully breeding C davidsandsi.
Breeding Corydoras elegans
- How to breed this dwarf Corydoras
Breeding Corydoras gossei
- Detailed guide on how to breed C. gossei.
Breeding Corydoras melanotaenia
- Information about how to keep and breed C melanotaenia
Breeding Corydoras nattereri
- Guide to breeding Corydoras nattereri
Breeding Corydoras xinguensis
- Information about how to keep and breed this beautiful fish..
Breeding Panda Catfish, Corydoras panda
- Learn how to bread panda catfish.
Breeding Whiptails
- Information about how to breed different kinds of whiptails.
Channel Catfish
- Information about Channel Catfish
Flathead Catfish
- Information about Flathead Catfish
Giant Mekong Catfish
- Information about Giant Mekong Catfish
Tatia perugiae - Driftwood Catfish - Perugia's Woodcatfish
- An article about tatia prugiae.
Monster Catfish
- Information about Monster Catfish
Spawning Bristlenose Plecostamus (Ancistrus dolichopterus)
- A guide to breeding Bristlenose Plecostamus (Ancistrus dolichopterus)..
Breeding Synodontis multipunctatus - cuckoo catfish
- A guide to keeping and breeding S. multipunctatus aka "cuckoo catfish"..
Jaguar catfish (Liosomadoras oncinus)
- Information about how to keep and care for the jaguar catfish.
Tiger Shovelnose Catfish
- Information about Tiger Shovelnose Catfish