Hydrolycus scomberoides
Payara is a large fish species found in the Amazon River basin and that is a popular fish among sport fishers. Payara fishing allures a relatively large number of tourists to different fast moving waters in their natural habitats in Brazil, Bolivia, Peru, Ecuador and Venezuela.
Payara can reach a length of 120 cm or 47 inch and a weight of 18 kg (40 pounds) they are extremely aggressive predatory fish that is found in fast moving water and rapids. Payara fish are capable of eating fish that are half their own body size.
Payara fish is mainly suitable for public aquariums and is not suitable to be kept in private aquariums unless their demand for space and fast moving water can be meet and most aquarist are not capable of meeting the requirements. A Payara requires a very large aquarium or a large pond. I would not recommend keeping them in aquarium tanks/ponds smaller then 500 gallons (2000 L) due to their size and even then it might be impossible to keep more then one Payara due to their aggressiveness. I can however vouch for the fact that a Payara fish makes a fascinating addition to any aquarium large enough to house them even if I haven't had the pleasure to keep one myself.
There are a lot of smaller Payara and peixe-cachorro species present in the same areas and these usually makes better aquarium fish for the normal aquarist.
A Payara aquarium should be decorated with large rocks and large Pieces of bogwood to create hiding places for these fishes. Plants are not required since plants are unusual in the fast moving waters they normally live in, in the wild. The aquarium should be very well circulated and you can not create to much water movement for these fishes as long as they are provided with a few large rocks behind which to rest.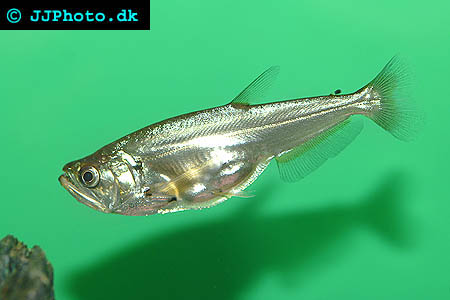 Payara – Vampire fish. Copyright www.jjphoto.dk
Feed your Payara feeder fish and other live food. Make sure to offer them a varied diet. You can often teach your Payara to accept dead food such as frozen food and pieces of fish and it is sometimes possible to teach them to accept pellets although this isn't always the case.
Payara fishing
Payara are as earlier mentioned much appreciated sport fish due to the impressive fights they put up. Payara fish is usually considered to be one of the fiercest struggling freshwater fishes, offering a larger fight then other popular fishes from the area such as peacock bass. They also add to the sport of catching them by jumping up and down out of the water in a similar way to salmon.
Payara fish usually hunts in open water rather then at the surface so sinking fish lures such as spoon and jigs are the best choice. Make sure that you have enough line on your reel when fishing this fish since a Payara easily can peel of up to 150 yards of line in the first few seconds of the fight. Payara are usually fished on a catch and release basic since larger specimens today are becoming quite rare in many waters.