The name
needlefish
is derived from the fact that a needlefish has an elongated body and long, narrows jaws. The jaws are filled with an abundance of very sharp teeth. All these characteristics make the needlefishes look very similar to gars, and several needlefish species are referred to as gars or garfish in everyday language. The true gars do however belong to the family
Lepisosteidae
, while the needlefish species are found in the family
Belonidae
. The needlefish species are actually much more closely related to halfbeaks, flying fish and sauries since they are all found within the order
Beloniformes
.
A majority of the needlefish species inhabits marine environments in the tropics, but you can find a few species in temperate waters too, and some needlefish species have adapted to a life in freshwater or brackish environments. Some needlefish species live in temperate zones only during the summer season. Needlefish will usually spend most of their time in shallow water. When they live in the open sea, they will stay near the surface.
The needlefish species are piscivores and feed chiefly on small fishes. When hunting, the needlefish catch prey using a sideways sweep of the head. Some needlefish species supplement their piscivore diet with crustaceans, cephalopods and plankton. Among the freshwater needlefish species, insects, tadpoles and frogs are also popular prey.
One example of a freshwater needlefish is the
Xenentodon cancila
. This needlefish is native to South East Asia and is sometimes sold as aquarium fish. It should not be kept in a small aquarium, since it can reach a length of 40 centimetres. Keeping a
Xenentodon cancila
can be a bit difficult and this species is not recommended for novice aquarists.
One example of a marine needlefish is the
Belone belone
that lives in the North and Eastern Atlantic. It is also found in the Mediterranean Sea and can live in brackish conditions. Its geographical distribution is limited between 65°N - 27°N, and 24°W - 25°E. This fish will usually form large schools and swim near schools of mackerel. It is a piscivore species and feed chiefly on clupeids.
Belone belone
needlefish living in the Black Sea will instead feed primarily on
Engraulis
fish.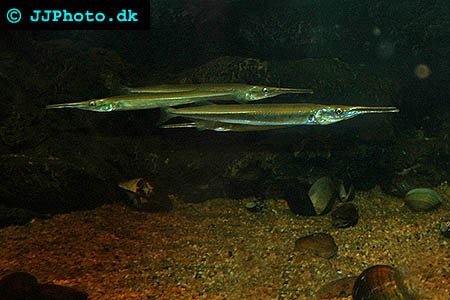 Needlefish of the species Xenentodon cancila. Copyright www.jjphoto.dk
A
Belone belone
fish will seldom grow larger than 60 centimetres, but the largest caught specimen was 93 centimetres long and the heaviest
Belone belone
weighed 1,300 kilograms. It is a popular game fish and you can catch it using a baited hook. When hooked, the
Belone belone
will jump out of the water. The bones have a bright green colour, but the fish is a good food fish despite this somewhat scary coloration. A
Belone belone
needlefish have between 16 and 20 dorsal soft rays and 19-23 anal soft rays. The teeth are quite big and widely spaced. The lower jaw of the
Belone belone
needlefish is somewhat longer than the upper jaw.
The
Belone belone
is not considered an endangered species and its minimum population doubling time is 1.4-4.4 years. The female
Belone belone
needlefish will lay eggs that are equipped with tendrils which make the eggs stick to objects in the water. A juvenile
Belone belone
needlefish have a very elongated jaw, and lacks the black posterior dorsal fin lobe that is found on adult
Belone belone
needlefish.