Samolus valerandi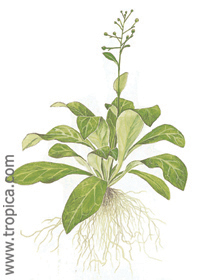 Samolus valerandi
Family: Primulaceae
Continent: America
Region:
Country of origin:
Height: 6-12 cm
Width: 6-12 cm
Light requirements: high-very high
Temperature: 15-26 °C
Hardness tolerance: soft-very hard
pH tolerance: 6-9
Growth: slow
Demands: difficult
In favourable light and nutrition conditions Samolus valerandi is a
very beautiful foreground plant in the aquarium. It normally grows in marshes,
and often takes time to adapt to life under water and start growing. If light
conditions are good and the bottom is nutritious, the plant will do well. S.
valerandi is also suitable as a pond or terrarium plant, as well as an
indoor plant if placed in a north-facing window.
Didn't find the info you were looking for? Register for free and ask your question in our Aquarium forum !
Our knowledgeable staff usually responds to any question within 24 hours
Back to: Aquatic Plant Index - AC Tropical Fish
Database used with permission. Thanks to Tropica!