Salvinia natans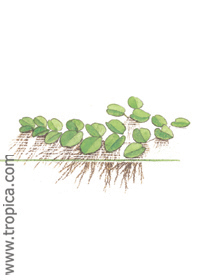 Salvinia natans
Family: Salviniaceae
Continent: Europe, Asia
Region: Asia and Southern Europe
Country of origin:
Height: 1-3 cm
Width: 3+ cm
Light requirements: high-very high
Temperature: 12-30 °C
Hardness tolerance: soft-hard
pH tolerance: 5,5-9
Growth: medium
Demands: medium
Salvinia natans is a floating fern that grows quickly if there is
sufficient nutrition and light. Light leaves are a sign of a shortage of
micro-nutrients. It tends to take light from the plants at the bottom.
salvinia varieties have small hairs on their leaves, making them water
resistant. Helps prevent algae by shading parts of the aquarium and using
nutrients in the water. Grows very big in the wild and in optimum conditions. A
decorative plant for open aquariums.
Didn't find the info you were looking for? Register for free and ask your question in our Aquarium forum !
Our knowledgeable staff usually responds to any question within 24 hours
Back to: Aquatic Plant Index - AC Tropical Fish
Database used with permission. Thanks to Tropica!