Riccia sp. ''Dwarf''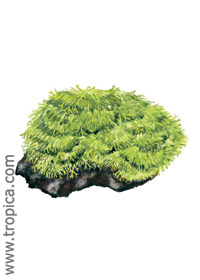 Riccia sp. ''Dwarf''
Family: Ricciaceae
Continent: Pan Tropic
Region: unknown
Country of origin:
Height: 5-1+ cm
Width: 3-5+ cm
Light requirements: low-very high
Temperature: 15-28 °C
Hardness tolerance: very soft-medium
pH tolerance: 5,5-7,5
Growth: medium
Demands: medium
Riccia spec. ''Dwarf'', like Riccia, is a floating plant which can be
anchored to stones or roots with fishing line to keep it down. When the plant
grows well it develops into an unusual and attractive carpet. To prevent it from
becoming detached and floating to the top, it should be pruned from time to time
with scissors, and fastened down again occasionally. Riccia spec. ''Dwarf''
thrives best when CO2 is supplied (see also Riccia fluitans).
The origins of this plant are unknown.
Didn't find the info you were looking for? Register for free and ask your question in our Aquarium forum !
Our knowledgeable staff usually responds to any question within 24 hours
Back to: Aquatic Plant Index - AC Tropical Fish
Database used with permission. Thanks to Tropica!