Ludwigia repens ''Rubin''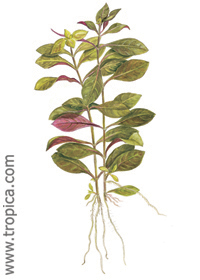 Ludwigia repens ''Rubin''
Family: Onagraceae
Continent: North America
Region: Central America
Country of origin:
Height: 20-50 cm
Width: 5-15+ cm
Light requirements: low-very high
Temperature: 15-30 °C
Hardness tolerance: very soft-hard
pH tolerance: 5-8
Growth: fast
Demands: very easy
Variety of Ludwigia repens with striking dark red leaves and stalk. It
makes a fine colour contrast to the green shades in the aquarium. Plant in large
groups to enhance the decorative effect, and prune regularly to encourage bushy
growth. The plant makes few demands, but if light is insufficient the lower
leaves tend to fall off. In strong light the colour becomes more intense. Its
scientific name is at present uncertain. See also Ludwigia repens.
Didn't find the info you were looking for? Register for free and ask your question in our Aquarium forum !
Our knowledgeable staff usually responds to any question within 24 hours
Back to: Aquatic Plant Index - AC Tropical Fish
Database used with permission. Thanks to Tropica!