Hygrophila difformis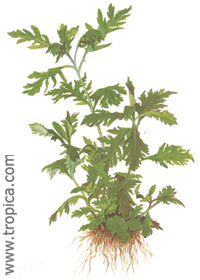 Hygrophila difformis
Family: Acanthaceae
Continent: Asia
Region: South-east Asia
Country of origin:
Height: 20-50 cm
Width: 15-25 cm
Light requirements: medium-very high
Temperature: 22-30 °C
Hardness tolerance: very soft-very hard
pH tolerance: 5-9
Growth: fast
Demands: easy
Hygrophila difformis is beautiful and undemanding. A plant for
beginners which can help create a balance in the aquarium from the start. Its
rapid growth helps prevent algae because the plant absorbs a great number of
nutrients from the water. The shortage of micro-nutrients leads to pale leaves,
which may be an indication that the aquarium needs fertiliser. In large
aquariums its lobed leaves can create a distinctive group.
Didn't find the info you were looking for? Register for free and ask your question in our Aquarium forum !
Our knowledgeable staff usually responds to any question within 24 hours
Back to: Aquatic Plant Index - AC Tropical Fish
Database used with permission. Thanks to Tropica!