Hydrocotyle leucocephala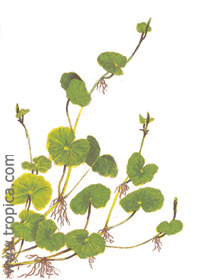 Hydrocotyle leucocephala
Family: Apiaceae
Continent: South America
Region: South America
Country of origin:
Height: 10-20 cm
Width: 5-15 cm
Light requirements: low-very high
Temperature: 15-28 °C
Hardness tolerance: very soft-very hard
pH tolerance: 5-9
Growth: fast
Demands: easy
A plant that grows fast and adapts easily, thriving in relatively hard water.
Immediately after planting Hydrocotyle leucocephala will grow towards the
light and the surface, where it will spread. It does not need to be rooted, but
can be used as a floating plant which provides a hiding-place for young fish.
Used as a herb in the tropics.
Didn't find the info you were looking for? Register for free and ask your question in our Aquarium forum !
Our knowledgeable staff usually responds to any question within 24 hours
Back to: Aquatic Plant Index - AC Tropical Fish
Database used with permission. Thanks to Tropica!