Echinodorus palaefolius var. latifolius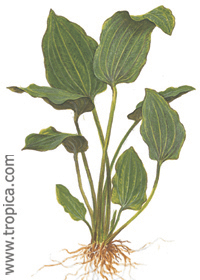 Echinodorus palaefolius var. latifolius
Family: Alismataceae
Continent: South America
Region: South America
Country of origin: Brazil
Height: 20-40+ cm
Width: 20-40+ cm
Light requirements: medium-very high
Temperature: 20-28 °C
Hardness tolerance: soft-very hard
pH tolerance: 5-8
Growth: medium
Demands: medium
In marshy conditions Echinodorus palaefolius var. latifolius has round
leaves with a horizontal leaf base (see ill.). Under water the leaves are
narrower and longer. In the aquarium it tends to grow out of the water. This can
be prevented by removing the long leaves just before they reach the water
surface. The next leaves will then become shorter and the plant will remain
under water. In open aquariums the plant can be allowed to grow out of the
water, but the leaf margins often dry out if air humidity is low.
Didn't find the info you were looking for? Register for free and ask your question in our Aquarium forum !
Our knowledgeable staff usually responds to any question within 24 hours
Back to: Aquatic Plant Index - AC Tropical Fish
Database used with permission. Thanks to Tropica!