Cryptocoryne undulata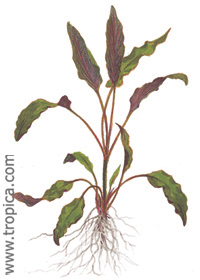 Cryptocoryne undulata
Family: Araceae
Continent: Asia
Region: South-east Asia
Country of origin:Sri Lanka
Height: 10-15+ cm
Width: 10-15 cm
Light requirements: low-very high
Temperature: 20-28 °C
Hardness tolerance: very soft-hard
pH tolerance: 5,5-8
Growth: medium
Demands: easy
It is characteristic for this species that it has a small internodium between
each leaf. Normally the leaves of Cryptocoryne grow out from a rosette
which is so compact that the stem between the individual leaves is invisible.
When you buy Cryptocorynes in pots, it is important that they are not planted in
a lump but separated into smaller portions and preferably planted a few
centimetres apart. See other Cryptocorynes for further information.
Didn't find the info you were looking for? Register for free and ask your question in our Aquarium forum !
Our knowledgeable staff usually responds to any question within 24 hours
Back to: Aquatic Plant Index - AC Tropical Fish
Database used with permission. Thanks to Tropica!