Aponogeton crispus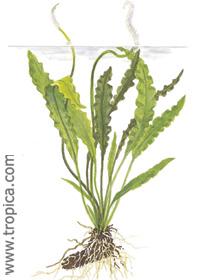 Aponogeton crispus
Family: Aponogetonaceae
Continent: Asia
Region: South-east Asia
Country of origin:Sri Lanka
Height: 25-50 cm
Width: 15-30 cm
Light requirements: medium-very high
Temperature: 15-32 °C
Hardness tolerance: very soft-hard
pH tolerance: 5,5-8
Growth: fast
Demands: medium
Aponogeton crispus looks good in any aquarium with its light-green,
transparent leaves. It makes few demands, although growth is always best in
soft, slightly acidic water with a nutritious bottom. In such conditions the
plant produces a mass of leaves, and it flowers very frequently in optimum
conditions. A. crispus is generally found in ponds that are only filled
with water in the rainy season, but it does not need a dormant period in the
aquarium.
Didn't find the info you were looking for? Register for free and ask your question in our Aquarium forum !
Our knowledgeable staff usually responds to any question within 24 hours
Back to: Aquatic Plant Index - AC Tropical Fish
Database used with permission. Thanks to Tropica!