The Rainbow snakehead (Channa bleheri) is a cute little Channa that rarely exceeds 20 cm in length. It is native to the Upper Assam region in India where it plays an integral part in local folklore and religious traditions. The Assam region is also where you will find a rich assortment of other Snakeheads, such as Channa barca, Channa marulius, Channa orientalis, Channa punctata, Channa striatus and Channa stewartii. Channa bleheri is named after famous fish expert Heiko Bleher. Channa bleheri is not considered endangered and it has a minimum population doubling time of less than 15 months.
The Rainbow snakehead has a cigar shaped body decorated with beautiful shades of brilliant orange and vivid blue. The ventral fins sport a bright tiger pattern while the dorsal fins are blue with orange edges. This fish have no problem surviving in oxygen depleted waters since it can use its labyrinth organ to breathe oxygen directly from the air.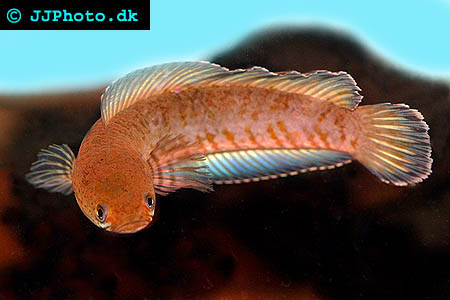 Rainbow Snakehead picture.
Picture added by AC tropical Fish. Copyright www.jjphoto.dk
Keeping a Rainbow snakehead
Even though this species stay small compared to many other snakehead species, it should never be crammed into a small aquarium since it needs plenty of space to swim around in. Unlike many other fishes, Channa bleheri actually appreciates a well lit aquarium. The water should be hard and alkaline (alkaline = a pH-value above 7.0). The Rainbow snakehead is normally kept in a species aquarium since it feeds on other fishes, but some aquarists have managed to keep Rainbow snakehead with big Botias, Barbs and Bushfish.
Rainbow snakehead reproduction
In the wild, Channa bleheri has been seen performing a courting behavior similar to that exhibited by many large Gourami species. The eggs are released inside a cave or similar and the male will guard eggs as well as fry.   
Channa sp. 'Blue Assam' (Rainbow snakehead 'blue')
Every now and then, fish stores will offer a Snakehead labeled Rainbow snakehead 'blue' for sale. The truth is however that no one knows for sure if this is actually a blue variety of Channa bleheri, a separate species or a blue variety of some other Channa species living in the same region. It is therefore better to refer to it as Channa sp. 'Blue Assam' until it has been properly investigated and classified.
Channa sp. 'Blue Assam' reproduction
A few reports exist of Channa sp. 'Blue Assam' spawning in captivity. Unlike Channa bleheri, the actual spawning has taken place in open water and the cave has only been used during initial courting.