Goldspotted Rabbitfish – Siganus guttatus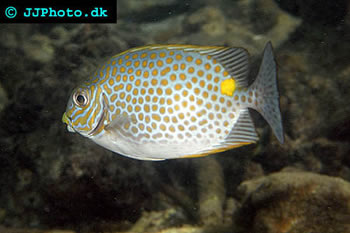 Goldspotted Rabbitfish - Copyright www.jjphoto.dk
Species Name: Siganus guttatus
Synonyms: S. concatenatus, S. concatinatus,
Common Names: Goldspotted Rabbitfish, Orange-spotted Spinefoot

Family: Siganidae
Order: Perciformes (perch-likes)
Class: Acinopterygii (ray-finned fishes)
Max.Size: 15.7 inches / 40cm
Environment: Reef, High Brackish
Origin: Eastern Indian Ocean and Western Pacific
Temperament: Social species. Forms schools in the wild.
Company: Should be kept with larger less aggressive species
Aquarium Setup: Minimum 180gal aquarium.
Food: Feeds mainly on algae. Some meaty foods should be offered
Breeding: Not captive bred
Special Notes: These fish have venomous spines on the dorsal and anal fins. Caution must be used when handling. Reactions can range from mild to severe.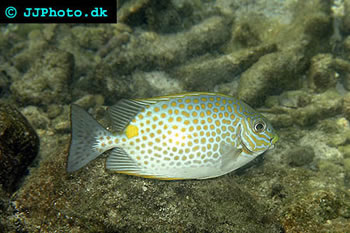 Siganus guttatus - Copyright www.jjphoto.dk