Social Wrasse – Cirrhilabrus rubriventralis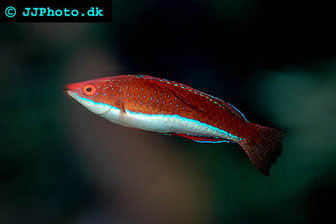 Social Wrasse - Copyright www.jjphoto.dk
Species Name: Cirrhilabrus rubriventralis
Synonyms:
Common Names: Longfin Fairy Wrasse, Social Wrasse

Family: Labridae
Order: Perciformes (perch-likes)
Class: Acinopterygii (ray-finned fishes)
Max.Size: 2.9 inches / 7.5 cm
Environment: Reef, Depth 3-43m
Origin: Indian Ocean and Red Sea
Temperament: Semi aggressive
Company: The Social Wrasse is a reefsafe community fish. May become quite aggressive as it grows older.
Aquarium Setup: Minimum 55gal tank with lots of swimming room and hiding places. Tank should have tight fitting lid as these fish are prone to jump out of aquariums.
Food: Meaty foods. High quality frozen selections should be offered.
Breeding: We got no info about breeding Social Wrasse.