Ocellaris Clownfish – Amphiprion ocellaris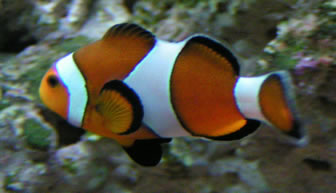 Ocellaris Clownfish - Picture by ILMGB
Species Name: Amphiprion ocellaris
Synonyms: A. bicolor, A. melamurus,
Common Names: Ocellaris Clownfish, False Percula, False Clown Anemonefish
Family: Pomacentridae
Order: Perciformes
Class: Actinopterygii
Max.Size: 3.5 inches / 9cm
Environment: Reef, Depth 1-15m
Origin: Eastern Indian Ocean and Western Pacific

Temperament: Peaceful
Company: Other peaceful species. Can be kept in groups however one will generally become dominant.
Aquarium Setup: 20gal minimum. Prefers a reef setup but not necessary
Food: Meaty foods such as Mysids, Brine Shrimp, Krill, and Plankton should be offered
Breeding: Prefers to spawn on substrate and in caves. Anemone is not necessary for spawning
Didn't find the info you were looking for? Register for free and ask your question in our Aquarium forum !
Our knowledgeable staff usually responds to any question within 24 hours