Cuban Hogfish – Bodianus pulchellus
Species Name: Bodianus pulchellus
Synonyms:
Common Names: Spotfin hogfish, Cuban Hogfish

Family: Labridae, subfamily: Bodianinae
Order: Perciformes (perch-likes)
Class: Acinopterygii (ray-finned fishes)
Max.Size: 5.9 inches / 15cm
Environment: Reef, Depth 15-120m
Origin: Western Atlantic
Temperament: Semi-aggressive
Company: Should be kept with other semi-aggressive species. Avoid more docile tankmates.
Aquarium Setup: Minimum 75gal tank. Not reef compatible as adults.
Food: Meaty foods like mysis and brine shrimp. Will also accept live black worms and grass shrimp.
Breeding: No info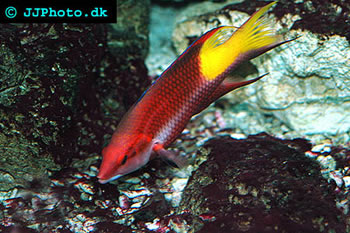 Cuban Hogfish - Copyright www.jjphoto.dk