West African Lungfish - Protopterus annectens annectens
Species name: Protopterus annectens annectens

Synonym: Lepidosiren annectens, Lepidosiren tobal, Protopterus annectans, Protopterus anguilliformis, Rhinocryptis annectens

Common Names: West African lungfish

Family: Protopteridae (African lungfishes)

Order: Lepidosireniformes (South American and African lungfishes)

Class: Sarcopterygii (lobe-finned fishes)

Max. size: 100 cm / 40 inches

Environment: freshwater

Origin: Africa. Senegal, Niger, Gambia, Volta and Chad basins

Temperament: Extremely predatory.

Company: Should only be kept as a solitary fish since odds are that all other fish sooner or later will end up on the meny.

Water parameters: pH 6.0-8.0, temperature 25-28°C / 77-82° F

Aquarium setup: This species tolerates low oxygen levels. Aquarium decoration is not that important. Can be kept without any interior decoration in the aquarium.

Feeding: Accepts all kind of food.

Breeding: Is breed in large outdoor ponds. Aquarium breeding unknown.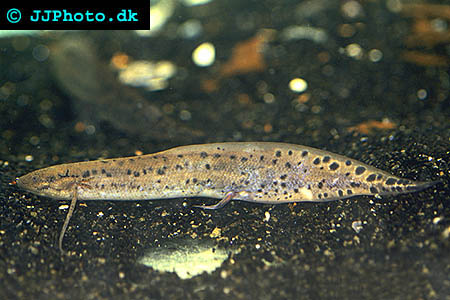 Picture of West African lungfish - Protopterus annectens annectens. Copyright www.jjphoto.dk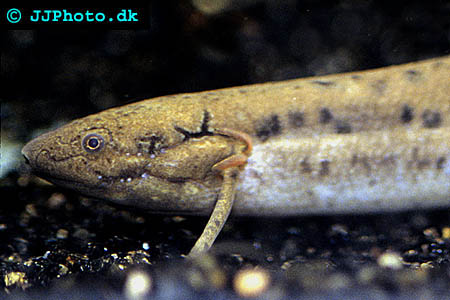 West African lungfish - Protopterus annectens annectens picture. Copyright www.jjphoto.dk
Didn't find the info you were looking for? Register for free and ask your question in our Aquarium forum !
Our knowledgeable staff usually responds to any question within 24 hours