Queen Loach - Botia dario
Species name: Botia dario

Synonym: Cobitis dario; Cobitis geto; Botia geto

Common name: Queen Loach

Family: Cobitidae

Order: Cypriniformes

Class: Actinopterygii

Maximum size: 8 cm / 3 inches

Environment: freshwater

Origin: Mountain streams of Bangladesh.

Temperament: Peaceful

Company: This species is a small and peaceful Botia that will suit most peaceful community tanks.

Water parameters: Temperature 23-26°C / 73-79°F; pH 6.5 - 7.5

Aquarium setup: Queen Loaches are slightly more delicate then other Botias so be sure to provide good water conditions. They prefer to be kept in groups of four or more fishes. Is best kept in an aquarium with lot of hiding places.

Feeding: Will eat most commercial foods but prefers live and frozen foods and in my experience bloodworms is a particular favourite.

Breeding: No captive breeding reports and little or nothing is known about breeding this species..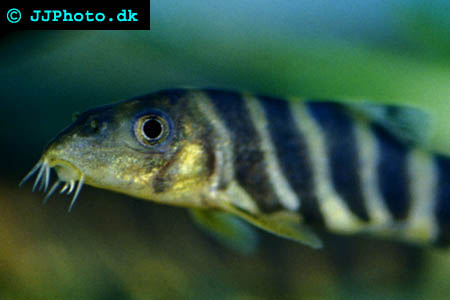 Picture of Queen Loach - Botia dario. Copyright www.jjphoto.dk

Botia dario - Queen Loach picture. Copyright www.jjphoto.dk
Didn't find the info you were looking for? Register for free and ask your question in our Aquarium forum !
Our knowledgeable staff usually responds to any question within 24 hours


Other Loach Profiles: