Platy - Xiphophorus Maculatus
Species name: Xiphophorus Maculatus

Synonym:

Common Names: platy

Family: Poeciliidae (Poeciliids) , subfamily: Poeciliinae

Order: Cyprinodontiformes (rivulines, killifishes and live bearers)

Class: Actinopterygii (ray-finned fishes)

Max. size: 5 cm / 2 inches

Environment: freshwater

Origin: North and Central America, Ciudad Veracruz, Mexico to northern Belize

Temperament: non aggressive.

Company: Can be kept in most community aquariums. Don't keep with large aggressive fish.

Water parameters: pH 7.0-8.0, temperature 20-26°C / 68 - 79° F

Aquarium setup: Platy should be kept in schools in aquariums decorated with dense vegatation and open areas to swim in. Avoid decorations that lowers the pH level in the tank such as bogwood.

Feeding: Eats anything small enough to fit into their small mouths.

Breeding livebearer. Males slimmer. Livebearers can always be sexed by the fact that males got gonopodiums and females doesn't. Female platys give birth once every 4-6 weeks. Each broad contains up to 70 fry. The fry is large and accepts small flake food. Fry grows fast.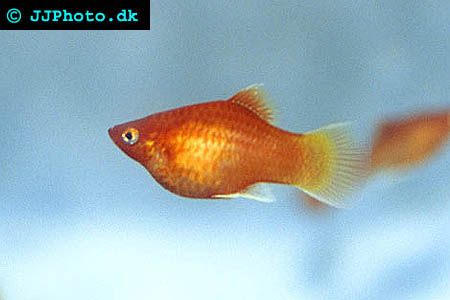 Picture of platy - Xiphophorus maculatus. Copyright www.jjphoto.dk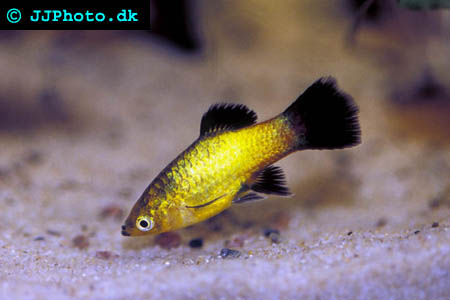 Xiphophorus maculatus - platy picture. Copyright www.jjphoto.dk
Didn't find the info you were looking for? Register for free and ask your question in our Aquarium forum !
Our knowledgeable staff usually responds to any question within 24 hours
Other Livebearer Profiles: