Otocinclus Catfish - Otocinclus affinis
oto
Species name: Otocinclus Affinis

Synonym: Otocinclus affinis; Otocinclus bororo

Common name: Otocinclus Catfish / Otocinclus / oto

Family: Loricariidae

Order: Cypriniformes

Class: Actinopterygii

Family: Loricariidae

Maximum size: 5 cm / 2 inches

Environment: freshwater

Origin: South America

Temperament: Peaceful

Company: Otocinclus Affinis (Otocinclus Catfish, Oto) can be kept in community aquariums with other small species.

Water parameters: Temperature 24-27°C / 75-79°F; pH 6.0 – 8.0

Aquarium setup: Otocinclus Catfish can be kept in quite small aquariums. They prefer a well planted aquarium and should be supplied with plenty of hiding places. Hiding places can be created using roots and rocks or by using bought aquarium decorations. Otocinclus Affinis (Oto) prefers a dark bottom sustrate.

Feeding: They are algae eaters and can be feed vegetables and food developed for algae eaters.

Breeding: Otocinclus Catfish are best breed in large groups in slightly acidic water. They deposit their eggs on stones and plants.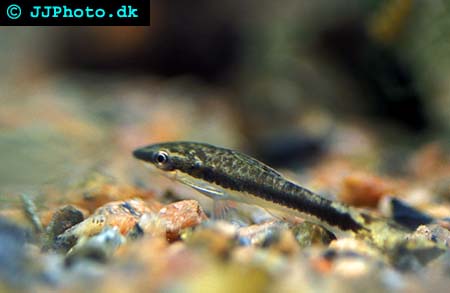 Picture of otocinclus catfish. Copyright www.jjphoto.dk

Didn't find the info you were looking for? Register for free and ask your question in our Aquarium forum !
Our knowledgeable staff usually responds to any question within 24 hours


Other Catfish Profiles: