Cryptoheros nanoluteus
Species name: Cryptoheros nanoluteus

Synonym: Archocentrus nanoluteus; Cichlasoma nanoluteus; Heros nanoluteus

Common name:

Family: Cichlidae

Order: Perciformes

Class: Actinopterygii

Maximum size: 13 cm / 5 inches

Environment: freshwater

Origin: Central America

Temperament: Peaceful

Company: Cryptoheros nanoluteus should only be kept with toher small and timid/calm species. The best company is different livebearers.

Water parameters: Temperature 22-27°C / 72-81°F; pH 7.2 – 8.0

Aquarium setup: Cryptoheros nanoluteus should be kept in a well planted aquarium with a lot of hiding places. Floating plants are appreciated.

Feeding: Cryptoheros nanoluteus accept most food sources but a varied diet is very important.

Breeding: Cryptoheros nanoluteus becomes somewhat aggressive when they are protecting their young. They spawn on an in advanced cleaned flat surface. The female guards the eggs while the male guards the territory around the breeding site.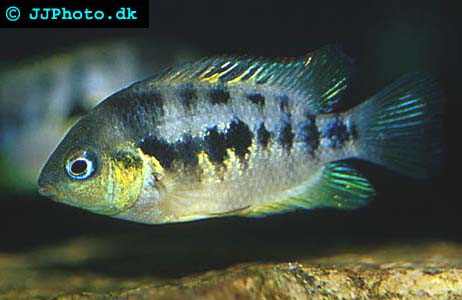 Picture of Cryptoheros nanoluteus. Copyright www.jjphoto.dk


Didn't find the info you were looking for? Register for free and ask your question in our Aquarium forum !
Our knowledgeable staff usually responds to any question within 24 hours
Other American Cichlid Profiles: