Indian Glassfish - Parambassis ranga
Species name: Parambassis ranga

Synonym: Ambassis alta, Ambassis barlovi, Ambassis notatus, Ambassis ranga, Chanda ranga, Pseudambassis notatus, Pseudambassis ranga

Common Names: Glassfish, Indian Glassfish

Family: Ambassidae

Order: Perciformes

Class: Actinopterygii

Max. size: 8 cm / 3 inches

Environment: Fresh water

Origin: Asia. Pakistan, India, Bangladesh, Myanmar, Thailand, and Malaysia.

Temperament: Peaceful, timid

Company: Other small peaceful fish.

Water parameters: pH 7.0-8.2, temperature 20- 30°C / 68 - 86° F

Aquarium setup: Parambassis ranga (Indian Glassfish) can be kept in small aquariums. Decorate aquarium with free areas to swim in the middle and heavily planted areas around the sides. Use rocks to create caves and hiding places. Fish are easier to keep healthy if a small amount of salt is added to the water.

Feeding: Accepts most foods including flakes.

Breeding: Easy. Raising the temperature and conducting water changes may trigger spawning. Eggs are laid on broad leaved plants. The fry can be hard to raise.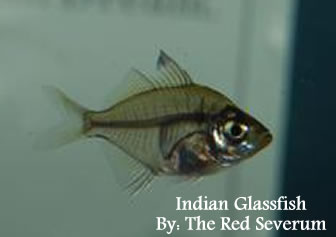 Picture of Indian Glassfish - Parambassis ranga.
Didn't find the info you were looking for? Register for free and ask your question in our Aquarium forum !
Our knowledgeable staff usually responds to any question within 24 hours
Other Oddball Fish Profiles: