Gray Bichir - Polypterus senegalus senegalus
Species name: Polypterus senegalus senegalus

Synonym: Polypterus bichir; Polypterus senegallus; Polypterus lapradei; Polypterus arnaudi; Polypterus senegalensis; Polypterus delhezi

Common Names: Gray bichir

Family: Polypteriade (Bichirs)

Order: Polypteriformes (bichirs)

Class: Actinopterygii (ray-finned fishes)

Max. size: 50.5 cm / 12 to 20 inches, usually smaller.

Environment: Freshwaters

Origin: Widespread across tropical Africa

Temperament:Predatory

Company:Do not keep with fish that smaller then half the size of your Polypterus senegalus senegalus

Water parameters: temperature 25-28°C / 77-82°F; pH 6.0 – 8.0

Aquarium setup: Polypterus senegalus senegalus(Gray bichir) needs a minimum tank size of 30gallons. Decorate the tank with rocks and bogwood, as with all bichirs a sand substrate is recommended to prevent the fish from accidentally swallowing gravel when feeding.

Feeding: Live and frozen meaty foods of all kinds, fish are a favourite. Small specimens can be fed bloodworms until they have grown enough to take larger foods.

Breeding: Rare but possible, the fish are egg scatters and show no brood care.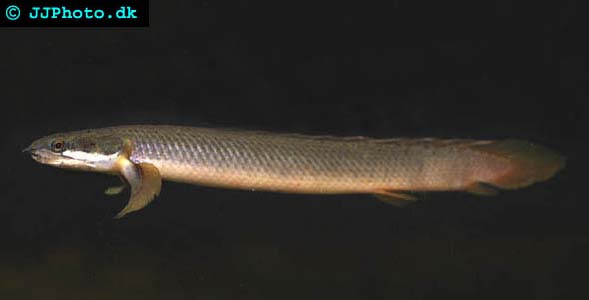 Picture of Gray bichir - Polypterus senegalus senegalus. Copyright www.jjphoto.dk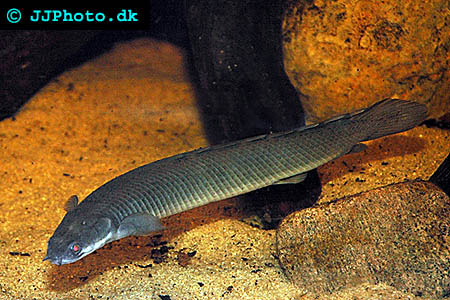 Polypterus senegalus senegalus - Gray bichir picture. Copyright www.jjphoto.dk
Didn't find the info you were looking for? Register for free and ask your question in our Aquarium forum !
Our knowledgeable staff usually responds to any question within 24 hours