Adopting a Labrador Retriever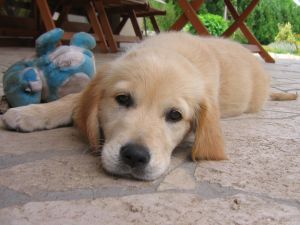 Labrador puppy
Labrador Retrievers are considered by many to be one of the most adorable, affectionate and amicable breed of dogs and a Labrador retriever can easily become the perfect family companion and/or therapeutic dog. Unfortunately, some Labrador retrievers end up in shelters for various reasons which is especially sad for a breed whose main purpose in life is to spend as much time with its family as possible. If you are thinking about getting a Labrador retriever, don't forget that your local shelter might have a dog waiting for you.
There are places where you can adopt a Labrador retriever for the amount of $25 to $100 and sometimes even for free. These dogs are usually left by their previous owners due to certain reasons. Most of these reasons are the changes that are about to happen in the owner's family or lifestyle that a Labrador retriever can never be a part of. Sometimes dog owners drop off their pets at these animal shelters because they simply can't handle the responsibility of raising a dog anymore. You can find either pure breed or mixed-breed Labrador puppies and adults just like the breeders and pet stores are selling. Breeders and pet shops normally sell Labrador Retrievers at a very expensive price range of $400 up to $1500, depending on the Labrador's ancestry, color etcetera.
Aside from animal shelters, there are also breed rescue groups that you may adopt Labrador Retrievers from. Unlike in the animal shelter where the dogs are placed in an animal cage, rescue group often raise Labrador Retrievers in a dog-friendly environment. They are taken cared of and evaluated at a foster home which makes them more sociable to people, fellow animals and more open to the human ambiance. At the same time, you may ask the foster parents about the dog's qualities and health problems, which can be difficult to do at animal shelters because the animal caretakers at shelter seldom have time to monitor all of the dogs in detail.
Before you get a Labrador retriever for yourself, there are some things you should consider before you adopt either a Labrador retriever puppy or an adult. Decide whether you would adopt a Labrador retriever from animal shelters or from rescue groups. Have the dog examined by a veterinarian so you can know if there are any health problems. Ask the administrator or the dog's caretaker about the dog's behavior and why was it surrendered by the previous owner. If you have kids or plan on having kids anytime soon, it is best to ask about the temperament of the dog around children. It will be difficult to introduce a pet to your children that is not very sociable around children and vice versa. You can never fully understand your new pet unless you are aware of its background. Assess yourself if you can allocate time to play with your dog or give him at least a daily walking exercise. Labrador Retrievers are very active dogs and they need to release their energy by doing something, such as dynamic bonding with the owner. Otherwise, these dogs will find ways to let go of their liveliness like digging holes, chewing whatever is in sight (socks, shoes, chairs), and even running after cars and other animals. Your home should ideally have a fenced yard to prevent your dog from wandering outside your premises.