Adopting a Golden Retriever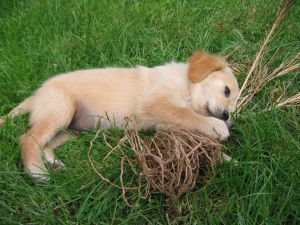 They are fun, adorable and energetic! The Golden Retriever is the dream dog if you want to have a pet suited for you and your family. They are loyal, sociable and trainable. This breed can easily adapt to various lifestyles and provide you with ten to twelve years of satisfying dog companionship.
However, if you think that adopting Golden Retriever is as easy as picking up the cutest puppy in the litter, you better think again. It's not as easy as purchasing a new set of shoes to fit you. There are a lot of things you should consider before taking home a pet and giving it a name of its own.
Decide whether you would want to adopt a Golden Retriever from an animal rescue center, purchase from a dog breeder or take the Golden Retriever your relatives of friend is giving you. Determine if you want to have a purebred or a mixed breed. Be sure to adopt a pet from a reliable place. Some breeders sell dogs just for the sake of money and will never tell you if the dog has a health problem or bad temperament. So it helps if you look for a trustworthy owner, breeder or animal rescue center.
In your busy life, could you still allocate time for your dog so you could give him his daily dose of exercise? Golden Retrievers are active, playful and full of energy. They need to have at least 30 minutes of walk in the park, run, play and sweating out. Otherwise, they will look for other ways to release their energy. They can start digging holes, biting shoes, nibbling socks, so on and so forth. Although the Golden Retriever is the epitome of a family pet, they can also be destructive at times when not provided with the right type of care.
Choosing a healthy Golden Retriever can be difficult for the novice but there are several things that you can do to reduce the risk of ending up with a sick dog. The nose, inner lips, and outer circle of the eyes should have a strong black color. The eyes should not be runny. A physical asset of Golden Retriever is its coat, so you better examine the outercoat and the undercoat, as well as its skin, thoroughly. An adult dog or a puppy with hairless patches means that there's something wrong with the dog's health condition. Never hesitate to ask the breeder or the caretaker of the dog about its medical problems. It is you who would be spending the next few years with the dog so you have to know your pet-to-be's medical history. You might also want to raise the question of the dog's routine vaccinations. Animal rescue center and ethical breeder keeps track of the dog's heart-worm preventative shots and other vaccines.
The dog's disposition is a major factor to consider before you adopt it, especially if you have children in the house. The dog should be trainable, alert and found of playing. A perfect family pet is sociable and has a good temperament. Although Golden Retrievers are known for their great disposition, it is still best to ask the breeder or the caretaker about the dog's temperament