Bullseye Snakehead - Channa marulius
Great snakehead
Species name: Channa marulius

Synonym: Ophicephalus sowara; Ophicephalus grandinosus; Ophiocephalus leucopunctatus; Ophiocephalus theophrasti

Common name: Great snakehead, Bullseye Snakehead

Family: Channidae

Order: Perciformes

Class: Actinopterygii

Maximum size: 180 cm / 70 inches

Environment: freshwater

Origin: Channa marulius (Great Snakehead) can be found in India, Sri Lanka, Bangladesh, Southern Nepal

Temperament: Aggressive and very predatory.

Company: Channa marulius (Great Snakehead) should not be kept with fishes smaller then 2/3 the size of the snakehead.

Water parameters: Temperature 22-28˚C / 72-82˚ F; pH 6-7.5

Aquarium setup: Channa marulius (Great Snakehead) is as an adult only suitable for large ponds. They prefer an aquarium/pond with rocky bottom and a lot of open space to swim on. Planted areas with hardy plants are recommended but might be destroyed. Needs surface access to survive.

Feeding: Channa marulius (Great or Bullseye Snakehead) is a predatory and accepts most meaty food of suitable size.

Breeding: Channa marulius (GreatSnakehead) have been breed in ponds. They build nests in which the lay red yellowish eggs that hatches after 2-3 days depending on temperature. Both parents protect their young.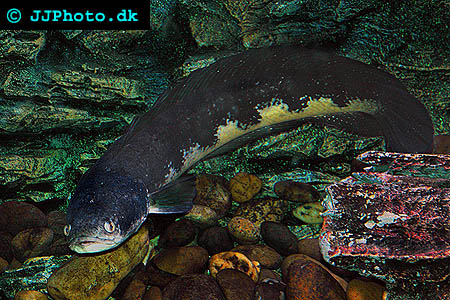 Picture of Great snakehead, Bullseye Snakehead - Channa marulius. Copyright www.jjphoto.dk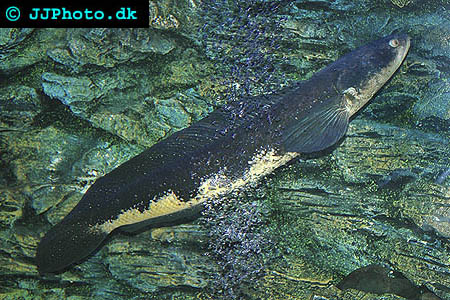 Channa marulius - Great snakehead, Bullseye Snakehead. Copyright www.jjphoto.dk
Didn't find the info you were looking for? Register for free and ask your question in our Aquarium forum !
Our knowledgeable staff usually responds to any question within 24 hours