Tonina fluviatilis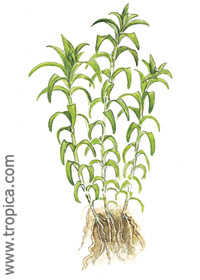 Tonina fluviatilis
Family: Eriocaulaceae
Continent: South America
Region: Central and South America
Country of origin:
Height: 5-35 cm
Width: 2-3+ cm
Light requirements: low-very high
Temperature: 20-30 °C
Hardness tolerance: very soft-medium
pH tolerance: 5-7,5
Growth: medium
Demands: very difficult
Tonia fluviatilis is widespread in may parts of South America. Light
green to yellow in colour, its characteristic leaf form makes it a pleasing
contrast to more ordinary plants in the aquarium. It is a demanding plant for
experienced aquarium owners, however. Tonia fluviatilis is most beautiful
planted in small groups, and should not be allowed to develop a bushy habit. If
the shoots grow too long, they can be pinched off and planted on the bottom to
form new plants.
Didn't find the info you were looking for? Register for free and ask your question in our Aquarium forum !
Our knowledgeable staff usually responds to any question within 24 hours
Back to: Aquatic Plant Index - AC Tropical Fish
Database used with permission. Thanks to Tropica!